Canoeing and Kayaking

Along with our riding program, we also offer other exciting adventure activities such as our canoeing and kayaking program.
Floating the Big Horn River
We typically use "Old Town" canoes and float the slow moving Big Horn River. The Big Horn River is not very deep but is quite wide and slow moving. During your float and especially during the hotter summer months, you will have plenty of time to swim and play in the water because you don't have to worry about your canoe getting away from you in fast water.
Our floats take you downstream so you don't have to work as hard with the paddle and have plenty of time to observe wildlife such as Bald Eagles, ospreys, deer, the occasional wild horse and of course the big carp and other fish that live in the river.
The water in the Big Horn River flows to the north and during the months of June, July and August, the water is warm enough for a refreshing swim on a hot summer's day.
Mountain Lakes & Reservoirs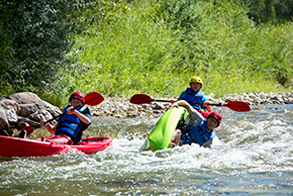 In the high summer season when the snow and ice have melted and the mountain roads are passable, we can also canoe on The Big Horn Mountain lakes and reservoirs. It will usually take a 4×4 trip to get there, but these are magical places. Of course the water in these lakes is quite a bit chillier than the wide, slow moving Big Horn River.
Kayaking on Shell Creek
For our more adventure seeking guests we can offer a kayaking trip down Shell Creek. Shell Creek is a natural wild creek and offers a fun four mile trip on "Sit-on-Top" Kayaks. Helmets and life-vests are provided as there are some rapids, fast moving water and obstacles that need to be traversed. Our guests who wish to participate in kayaking should be prepared to get wet, be able to hop on and off the kayak while in the creek and also be able to control their kayak in fast water. One need not be an expert to enjoy this trip, but a good amount of physical fitness is required as you must be fit enough to haul a kayak across the shallower parts of the creek and have the upper body strength to paddle through some of the stronger rapids.