All-Inclusive Family Guest Ranch Vacations at The Hideout Lodge & Guest Ranch
The Hideout's guest season runs from the middle of March through the middle of November.
While we are mostly adult oriented in the off-season, during mid-June, July and the first half of August we see many families with kids as young as the age of eight and their teenage siblings visiting the ranch time and time again. We believe that many of these families return year after year because they see the value and need to spend time with one another "togethering at The Hideout."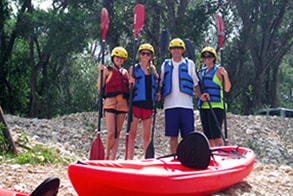 Families understand that time is becoming one of the scarcest resources with parents frequently travelling or working increasingly long hours and kids going to school and enrolling in numerous extracurricular activities. In addition to the major life commitments of work and school, there is an ever-increasing array of new technology such as personal electronics, computers and cell phones that are eating up nearly every minute of a person's spare time. The end result of these hectic schedules and consuming personal electronics is families having far less precious time to spend enjoying one another, indulging in new experiences and learning together as a family.
The Hideout as an upscale working cattle & riding ranch spread across 300,000 acres in one of the most remote areas of Wyoming and offers the ideal setting and atmosphere for a fun and safe family vacation. Families have the opportunity to come together and try new things such as:
Working cattle under the guidance of experienced cowboys

Riding horses with our experienced and skilled wranglers

Fly-fishing, learning how to fly-fish and learning how to tie flies
Canoeing and KayakingHiking in the Big Horn Mountains

Trap shooting & Archery
River floating
Visiting a dinosaur dig site (maybe even help dig up real fossils!)


Taking a 4×4 tour
Playing a game of horseshoes

Sit by the campfire while roasting s'mores and sharing stories
Visiting Yellowstone National Park


Enjoying an exciting excursion to the Cody Nite Rodeo
Visiting the world-renowned Buffalo Bill Center of the West
These are all exciting experiences the entire family can enjoy together. At The Hideout Lodge & Guest Ranch in Shell, Wyoming we've come to realize that there is something to be said for experiences outside of your everyday life (and no, watching a Western film on your iPad doesn't count as experiencing it!) Families from across America and around the world are learning that these unique activities bring them closer to their loved ones and allow them to bond over memories that will last for the rest of their lives.
A vacation at The Hideout is, above all, safe and fosters a family-oriented atmosphere (The Hideout is a family-run ranch.) We have many repeat guests from around the world and, although you may be visiting the Wild West in Wyoming, you will often hear up to six languages being spoken at The Hideout and learn a great deal about your fellow travelers' cultures. Family members both old and young will forge friendships with the other guests, often leading to youngsters keeping in touch via social networking and sometimes visiting each other overseas.
Helmets are Required for Children 14 Years of Age and Under
The Hideout Lodge & Guest Ranch offers a fun and safe riding experience. Beginning with our 2016 season, our safety program requires all children 14 years of age and under to wear riding helmets.
An all-inclusive family vacation
The Hideout Lodge & Guest Ranch vacations are essentially all-inclusive (ranch activities, accommodations, meals, cocktail hours, etc.) and unless you buy something in our gift shop, or decide to embark on a Cody Nite Rodeo or Yellowstone excursion, your vacation is completely paid for before arriving on the ranch.