Girlfriend Getaways at The Hideout Lodge & Guest Ranch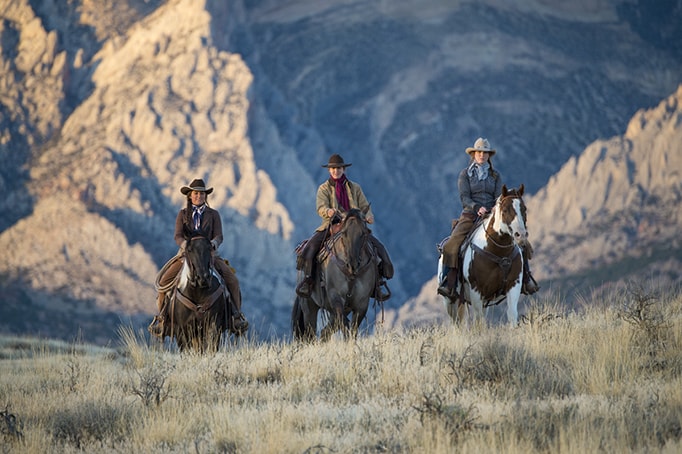 At The Hideout we don't typically organize a "women's" or "girlfriend's" week. We find that when women visit The Hideout, many of them are already coming with a girlfriend or group of friends. They organize their trip to indulge in a fun-filled week together. Many of our repeat guests, girlfriends, sisters, friends, etc. visit in May or September because school is in session and The Hideout caters to more adult activities.
At The Hideout we are dedicated to making sure your ranch experience is authentic. Planning specific women's weeks would take away from the authenticity and diminish the atmosphere we seek to provide. Like all of our guests
at The Hideout, women can pick and choose the activities they would like to enjoy together. Because of our limited guest numbers we can help our guests achieve a nearly customized ranch vacation.
When you visit The Hideout, let us know what you would like to do and if it is possible, we will make it happen.
Rebecca Bercher, The Hideout office manager, is the best person to talk to about experiencing The Hideout as a guest. Prior to working here she was a guest at The Hideout three times and understands the guest experience. Rebecca is the wife of our head wrangler Tom who also came out several times as a guest and then worked as a seasonal wrangler for a few years. They moved to Wyoming with their two sons from Arkansas joining us in this great adventure. You can reach her at info@thehideout.com.
City Girl to Cowgirl
Peter's wife Marijn Werquin is one of our most popular cowgirls. Marijn is in her early 50's and was a complete city girl who was scared of horses when she moved to Wyoming. Many women saw Marijn grow from an absolute novice rider to the horsewoman she is today. During the season Marijn spends between five and eight hours in the saddle riding with the guests and cowboys, driving trucks and trailers, training her own horses, etc. She is also a great person to talk with to learn about groundwork with horses.
Like Rebecca, Marijn has an outgoing, straightforward personality which many women relate very well to and trust. What women also like about Marijn is that she has not forgotten where she comes from in terms of riding and can relate to our novice riders.
The Matriarch
Paula Flitner, David's wife and Peter's aunt, is not a young cowgirl anymore and is in her late seventies. Though she does not ride, she is still actively involved in the operations of The Hideout. Paula is the other strong woman at The Hideout who provides a lot of charm and personality and knows how to kick up her heels with the girls.
People say that cowboys rule The West, but we are an exception to that rule as cowgirls rule the roost around here.
Come ride with us and enjoy meeting the ladies who live and work at The Hideout.
Contact Rebecca at info@thehideout.com.to start your fun at The Hideout Lodge & Guest Ranch.
Girls Getaway Videos in 2 parts