Girlfriend Getaways at The Hideout Lodge & Guest Ranch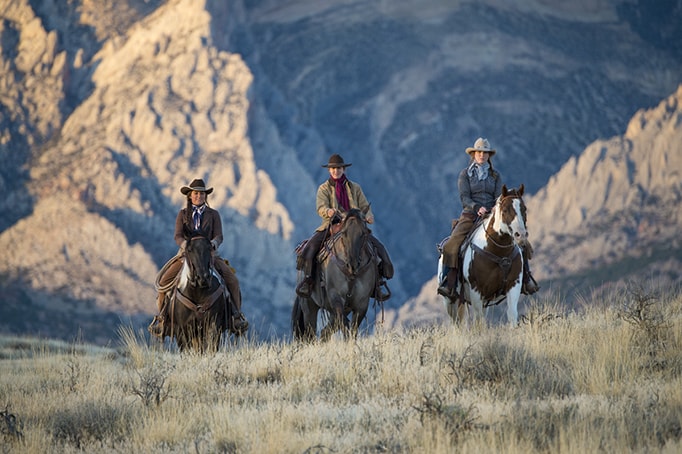 At The Hideout we don't typically organize a "women's" or "girlfriend's" week. We find that when women visit The Hideout, many of them are already coming with a girlfriend or group of friends. Simply because more girls and women ride horses and have horses.
They organize their trip to indulge in a fun-filled week together. Many of our repeat guests, girlfriends, sisters, friends, etc. visit in May or September because school is in session and The Hideout caters to more adult activities. And many return bringing more friends.
At The Hideout we are dedicated to making sure your ranch experience is authentic. Because of our limited guest numbers on a weekly basis, we can help achieve a nearly customized ranch vacation.
When you visit The Hideout, let us know what you would like to do and if it is possible, we will make it happen.
At The Hideout strong females are in lead positions.
City Girl to Cowgirl
Marijn, one of the owners is heading the barn, wrangler and horse program. She is very decisive, transparent and a straightshooter. Marijn is one of our popular cowgirls. She moved over with her husband and kids from Belgium to Wyoming in 2006. Marijn is in her mid-50's and an accomplished equestrian. 15 years ago, when she joined The Hideout, she was a complete novice rider and city girl. She feared horses when she moved to Wyoming. Overcoming her fear, spending days, months and years in the saddle while studying horsemanship and attending clinics, she earned her stripes as a cowgirl. Today she holds a Level 4 Parelli in Horsemanship, gives clinics together with our horse trainer, leads cattle work, and loves playing at Liberty with her horses. Many women saw Marijn grow from an absolute novice rider to the horsewoman she is today.
During the season Marijn spends between five and eight hours a day in the saddle riding with the guests and cowboys, driving trucks and trailers, training her own horses, etc. She is also a great person to talk with to learn about groundwork with horses. Marijn also gives the Monday morning orientation, she hosts and signs up guests for the daily activities.
Like most of our wranglers and staff, Marijn has an outgoing, straightforward personality which many women relate very well to and trust. What women also like about Marijn is that she has not forgotten where she comes from in terms of riding and can relate to our novice riders. She will always tell you that she does not have any special skills or talents with horses, but that she just worked very hard, long hours to get where she is today.
The Wranglers
Hideout Wranglers need to be accomplished equestrians, by preference in both English and Western. This in addition to having great peoples skills, keep guests safe and entertained. They need to be hard working, going the extra length and deeply care about your vacation experience.
Aside of our horse trainer and farrier, most of our wranglers are female. Our wranglers need equestrian and peoples skills.
Rachel, Melanie and Guille
Rachel our Chef is also a long time equestrian. She came to The Hideout with her sister many years ago and decided day one of her first week at The Hideout she wanted to join our team.
Melanie our Office Manager moved West to join The Hideout as Office Manager four years ago. She now owns her own ranch together with her partner and longtime cowboy Claire.
Guille our head of housekeeping and her team have been with us for over 22 years.
Our Mares
On the contrary to most guest ranch remuda's we have many great mares in our herd of guest horses. Our horses are part of our crew and we need to hire the best crew possible. This means we don't only buy geldings.
People say that cowboys rule The West. At The Hideout our Cowgirls rule the roost.
Come ride with us and enjoy meeting the ladies who live and work at The Hideout.