The Hideout Ranch Maintenance
Marco Chavez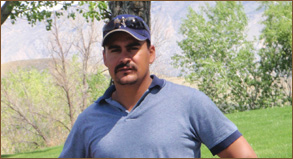 Marco and his brother Ever are in charge of all maintenance, repairs, fields, buildings, irrigation, landscaping, etc. at our properties at The Hideout and Trapper Creek Lodge and farms. Marco, who has worked for The Hideout for over 15 years, is well organized and comes with a work ethic that we can all learn from. Together with Ever, they are the team that makes everything run smooth. Marco's wife Yadira also works for us on a regular basis in housekeeping and maintenance around the property – she is responsible for keeping all the cabins painted with weather protectant and does our painting projects as needed.
Marco and Ever are on call at all hours of the day, as there is always something in the valley, the mountain properties, Trapper Creek Lodge or somewhere else that needs attention. During the winter months they do construction, repairs and renovate or upgrade our own buildings. There is always a list of initiatives and projects they work on for other property owners. The historic Shell Lodge build in 1896 is one of their renovation projects and a shining example where you can see their professionalism.
Marco and Yadira have two children and live in Shell. They always have a smile and friendly word to say.
Ever Chavez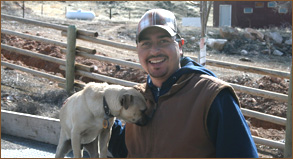 Ever Chavez, or Junior, is Marco's younger brother. When you see one, you usually see the other. Ever works very closely together with Marco, and has a great sense of humor. Ever and his wife Denise live in Shell with their daughter Jimena.
Ever has the funniest dog you can imagine called Lucas. Lucas is a cross between a Pug and a Chihuahua. Seeing is believing, but you cannot miss him and he is very serious making sure that all is in order. Ever and Marco can build, maintain and repair pretty much everything there is and they love to learn new things and take on new challenges. Usually they only need to see something once and they can reproduce it. The two of them keep the Hideout in tip-top shape.