Ride Mustang at The Hideout Lodge & Guest Ranch
In 2010 The Hideout Lodge & Guest Ranch and AH Horsemanship began adopting and training Mustangs to add to our string of wonderful guest horses. Over the years the Mustang herd at The Hideout has grown to 18 wonderful, well-trained horses. We have also participated in both The Extreme Mustang Makeover and The Supreme Extreme Mustang Makeover. Several of our Mustangs made it to the finals in both categories and are now available for our intermediate and advanced guests to ride at The Hideout.
Why Mustangs?
The Hideout got involved with Mustangs for two reasons. Our first goal was to show that Mustangs trained according to our low-stress and respectful AH Horsemanship methods will become great riding horses and equine companions. Introducing these AH Mustangs into our string of guest horses is the best proof that our methods work well. Our guests are able to go trail riding, do arena work and also work cattle on these well-trained and responsive horses.
Our second goal was to encourage other guest ranches to adopt and work with Mustangs for the same reasons. This will help find good homes for these great equines who are often overlooked as reliable riding horses.
Along with great Quarter Horses and Paint Horses, our string of Mustangs which our guests can ride grows each year.

How do we select our Mustangs?
Our Mustangs are selected for their disposition and are trained according our AH Horsemanship principles. These Mustangs make fun and very reliable mounts.
Mustangs are often smaller in size than the average Quarter Horse. They are also survivors in the wild which makes them very intuitive and sensitive. Most of the Mustangs are very comfortable to ride because of their confirmation and compact size.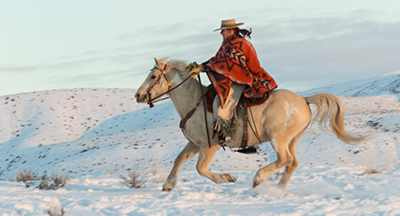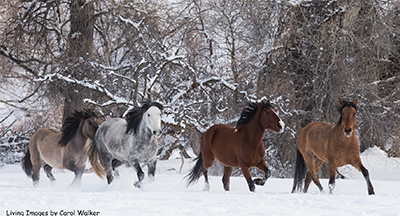 At AH Horsemanship we work closely with the BLM, The Mustang Heritage Foundation, specialized Mustang trainers and documentary filmmakers such as Erich Proell who is renowned for his documentaries on Mustangs and has documented The Hideout Mustangs in one of his award winning documentaries.
Subject to availability, intermediate and advanced riders might be able to ride one of our Mustangs.
Buying a Mustang
If you are interested in buying a well-trained Mustang we can work with you to find the right horse trained according to our AH Horsemanship Principles.