Our Horses – Authentic (AH)Horsemanship and Training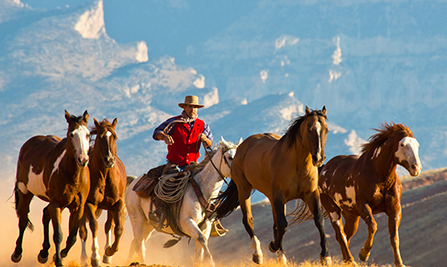 If horseback riding, herding cattle and enjoying the great outdoors in Wyoming is your idea of a perfect Western vacation then The Hideout is ideal for you. We have a variety of horses that are well taken care of and can be matched to any riding-level. The Hideout Lodge & Guest Ranch is not your typical "Nose to Tail" dude ranch, but is a riding, horsemanship and working cattle guest ranch. Each rider will be matched to a horse based on their riding ability and will experience the vacation they are looking for.
Advanced riders will find hundreds of thousands of acres to ride, on great horses with experienced and knowledgeable cowboys, wranglers and guides. Beginner riders will find patient teachers and instructors who enjoy sharing their love and passion for riding. Every level of rider can participate in cattle work, contrary to what many people think.
Our horse program is managed by AH Horsemanship & Training and every year clinicians visit The Hideout for training, clinics and to ride with our staff and guests. The key to Authentic Horsemanship is having an open mind towards horsemanship, riding and horses and the desire to continue learning where we can. We regularly offer half-day clinics, so interested guests can gain a deeper understanding of our style of horsemanship.
Our string of horses consists of excellent Quarter Horses of fine bloodlines, well-bred Paint Horses, cow and trail horses, and over the last few years we have been adding more and more well-trained Mustangs to our herd.