Corporate Retreats at The Hideout Lodge & Guest Ranch
Why travel all the way out to Shell, Wyoming or Wyoming at all to have a corporate retreat at this remote location?
If you are looking for a different, more exciting and more meaningful corporate retreat far away from your normal life and work environment then a retreat at The Hideout Lodge & Guest Ranch is the right thing for you and your team.
Hiding out at The Hideout Lodge & Guest Ranch is like staying in a little piece of heaven in the middle of nowhere.
We can handle groups of approximately 30 guests, however most of the groups that come prefer to keep it smaller.
To enhance your experience we have a number Equestrian & Non-Equestrian Activities to choose from:
Equestrian related activities
• Riding Lessons
• Natural Horsemanship & Clinics
• Cattle Work & Cattle Drives, Team Penning & Stockmanship
• Barrel Racing
• Non-verbal communication with horses, etc.

Non-Equestrian Activities
• Trapshooting at our professional remote control trapshooting range with 12 and 20 gauge Beretta's
• Fly-Fishing for all levels of fishermen with access to over 10 miles of stream in addition to casting ponds, lakes and creeks on both private and public lands.

• 4×4 tours in the mountains
• Hiking & Biking
• Archery (long-bow, cross-bow and compound bow)
• Kayak & Canoeing
• Snowmobiling (during winter there are approx. 400 miles of groomed trails available)
• Snowshoeing & Cross-country Skiing
• Cooking Lessons
• Photography lessons

Lodging, Culinary delight & Hospitality
• Our owners and management are well-travelled and love great and healthy food and do not hide their passion for food from our guests.

• Our chef is from Wyoming but has studied and cooked both in the United States and Europe. She is very creative, has a passion for healthy food and loves to surprise and pamper our guests. We raise many of our own vegetables organically on the ranch or buy them locally from trusted partners.
• We cater to most dietary regimens
• Wine and beer with dinner and cocktails during cocktail hour are included in our prices
• Some of our owners are from Belgium, which means that we usually have a great selection of local brews (including New Belgium Brewery, Ft. Collins, CO) and often there will be Belgian Chocolates.
• Food is one of the reasons many of our guests come back to The Hideout Lodge & Guest Ranch.

Lodging & Accommodations
We have a variety of cabins, rooms and upscale homes available depending on your needs. All our accommodations are:
• Very clean and very well maintained
• Cleaned daily and beds made daily with linen changed middle of the week
• Individual AC & heat
• Wireless internet, TV, Fridge, and Ipod docking station
• Complimentary bottle of wine & soda in your room
• Well-appointed log cabins with upscale Western furnishings and decor
• No mattresses are older than 4 years
• No mice or bed bugs in our cabins
• Private bathroom with granite counter tops, hair-dryer and a wide variety of amenities
• A year-round maintenance crew with many years of experience on staff
• A year-round housekeeping team with many years of experience working at The Hideout

Our Team, Languages & Cultures
Lead by Example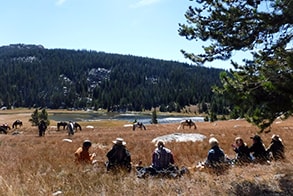 We believe that prior to presenting yourself as a venue for corporate retreats and team building events, our own organization needs to lead by example. Many of our guests are successful entrepreneurs, lawyers, doctors and corporate officers who have complimented us on our culture and the way we manage and lead our organization.
Diversity of cultures, ages, walks of life and languages
Our management and staff speak several languages and have worked in and with a variety of cultures, countries and regions. Some have worked for many years in a global corporate environment at different levels traveling the globe and others have held top-notch positions in the military traveling the globe and leading people both in combat and on peaceful missions.
Others come from a cowboy and equestrian background. We combine a unique set of talents, demography, generations, experiences, and cultures working together to make this a great experience. You will be delighted to see that remote does not mean rustic or close-minded. On the contrary, you will be surprised to find a group of people that has worked and lived in the world you live in.
Our Culture – What we have in common
While our team and organization is very diverse, we do share the same culture. We manage, lead and hire our staff based on The 3 C's of Character, Conduct and Competence with the knowledge that we can train for Competence but not for Character or Conduct.
We try to lead by example in everything we do.

Meyers-Briggs, Good to Great, The 5 Cultural Dimensions of Hofstede….
As you will notice when talking to management and the key group of staff, they are knowledgeable about what it takes to make a great team and to lead and manage them. We train our staff continuously to improve their individual technical skills in addition to the soft skills, cultural awareness and being great leaders and coaches.
Trust and Loyalty with low-ego and no personal agenda's
We believe trust is the basis of it all. Trusting that our team members have the right intentions and trusting our team members to have the skill-set for the responsibilities there are hired for ensure the quality experience our guests have come to expect from The Hideout.
Booking and Cancellation Policies:
Year-Round Booking: Please be advised that from mid-June through mid-September (which is the height of our vacationing guest season), your corporate group would need to "buy-out the ranch" to assure booking during our busy season. This means a 20 person minimum.
Corporate events with fewer participants can otherwise be accommodated during our low season, which is from late October through the beginning of May.
Terms: The Hideout Lodge & Guest Ranch maintains a limited guest capacity to ensure a first-class Western guest experience, and has a high percentage of repeat guests (both corporate and private). Our booking and reservations terms are tighter than many other event providers or vacation resorts. This enables The Hideout to deliver excellence in Western experience.
Booking: An initial down payment of 50% is required to book your group event, secure rates, and confirm number of reservations (down payment is nonrefundable). Another 30% payment is due 3 months prior to arrival date, and the remaining 20% balance due 1 month prior to arrival date.