Natural Horsemanship Clinics & Retreats
Authentic Horsemanship, our concept of Natural Horsemanship
The Hideout is a riding The Hideout is a riding guest ranch and an equestrian destination. We have the privilege to listen, talk, learn and ride with visitors from around the world. Our guests come from different walks of life and have a rich variety of riding levels and equestrian experience ranging from beginners to intermediate and professional riders competing in the global arena. All these people share a passion for riding and horses. Our guests have a wealth of information, ideas, feedback, opinions and experience to offer.
We also invest in training for our team by organizing clinics and training opportunities with well-rounded professional clinicians.
This is what shapes and defines our riding and equestrian culture at The Hideout. It is the way in which we handle and respect our horses, the way we train our horses and the way we teach our guests about horsemanship and horses. We call it Authentic Horsemanship. It is based on respect, low-stress, empathy, open-mindedness and professionalism.
The Goal of Authentic Horsemanship at The Hideout
Our goal is simple; to create a fun, safe, open-minded and respectful equestrian experience during your stay at The Hideout Lodge & Guest Ranch. We are constantly growing and shaping our program because like most things in life, it is an ever-evolving journey to reach the goals we have set for our program. The more we learn and listen, the more we notice how much we still have to learn.
Our intention is to maximize the potential embedded in the relationship between each horse and rider.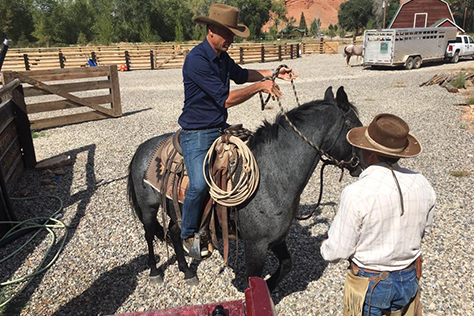 Natural Horsemanship Clinics at The Hideout Lodge & Guest Ranch
1. Weekly throughout the season
During your stay at The Hideout riding lessons and half-day introduction clinics in AH Horsemanship are included in your weekly stay. If you are interested, you can sign up for them on arrival and during your stay. These are introductions given by our Head Wrangler Tom Bercher. Tom is an experienced, long time horseman. He is a very clear and entertaining communicator. During this clinic Marijn, one of our owners and Parelli Level 4 student will give some demonstrations. After this clinic you might be interested to learn more and sign up in one of our week-long clinics at The Hideout or at our sister ranch The Trapper Creek Ranch.
2. Natural Horsemanship Clinic weeks by Farrah Green at The Trapper Creek Ranch, Shell – Wyoming
From June through October Farrah Green organizes dedicated natural horsemanship clinics & retreats at our sister ranch in Shell. These programs are limited to 4 participants weekly and the focus is on horses, learning and improving. The program operates separately from The Hideout and you will stay in The Trapper Creek Guest House
For more information please visit our dedicated website for this program at www.ahhorsemanship.com