Jackson Hole-Style Luxury at The Hideout Lodge & Guest Ranch in Shell, Wyoming.
Some people think that unless you stay in Jackson Hole, a vacation in Wyoming is a rustic cowboy-style retreat where you have to rough and tough it out in the name of authenticity. While this might be true for some ranches, this has never been the case at The Hideout Lodge & Guest Ranch. Our cabins, lodge, and culinary experience can compete with the best. 
For those guests who are seeking even more luxury than the standard accommodations, we offer The Hideout Home. Located across from The Hideout's main property and within 10 minutes walking distance
The Hideout Home features two master suites with oversized bathrooms, walk-in showers, private decks and fully equipped designer kitchen with granite counter tops and hardwood floors. You can relax in the open concept living room near the fireplace while looking through the panoramic windows with incredible views of the Bighorn Mountain Range or out on the terrace.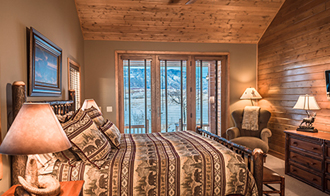 The home also features a third spacious guest suite with private bathroom, flat screen TV and twin beds. None of the rooms have connecting walls for maximum privacy. You can upgrade your stay at The Hideout staying in The Hideout Home for a  $2,000 per week premium in addition to our standard rates. If you stay in The Hideout Home you will need a vehicle.
The Hideout Homes Video Tour