Guided Fly-Fishing
From May through October there is some great fly-fishing available. If you would like to go out fishing on your own, we have fly-rods, waders, tack and flies available for you to use. If you let us know we can help you book a professional guide to take you out on the ranch or in the Yellowstone Park / Cody area on the big streams. Please make sure to book these guides well ahead of time as they are usually booked well in advance. At The Hideout we have access to a variety of streams, ponds and casting ponds. You will need to buy is a daily fishing permit.
Ride & Fish
Advanced, hard core fly-fishers will find The Bighorn Mountains and Greater Yellowstone Area one of most pristine fly-fishing paradises in the West. We fish for Brown, Rainbow, Cutthroat and Brook Trout.
Please note that booking a professional fly-fishing guide is not included in the price of your stay at The Hideout.
Trapshooting & Archery
Trapshooting and Archery are popular half-day, non-riding activities. We have an on-premises trap shooting facility with Winchester remote control thrower, including 20 and 12 gauge Beretta shotguns. At our Archery range you can try your luck shooting traditional and compound bows.During Covid-19 times we do not practice archery as the instructor can not keep social distance.
Cody Rodeo and Local Rodeo's
Cody, Wyoming, is the Rodeo Capital of the World — home of the Buffalo Bill Cody Stampede Rodeo and Cody Nite Rodeo! From June 1st through August 31st – 90 rodeos are held during the summer, one per day. Once a week during the Rodeo season we offer a trip to the Cody rodeo for the guests who are interested. We leave early in the afternoon, which allows you to explore Cody and the Western shops, have dinner at a local steakhouse and attend the rodeo at 8 PM. A dedicated driver / wrangler will accompany you and there is an additional fee for this activity During Covid-19 we do not offer shuttles to the Cody Rodeo, but guests can drive in their own vehicle and attend on their own.
Dinosaur Tracks & Dig Sites
Due to Covid-19 the dig sites are closed.
You may want to visit the Red Gulch Dinosaur Track Site which contains many rare Middle Jurassic dinosaur tracks embedded in limestone. Located on public land near Shell, Wyoming, this site covers 40 acres set-aside by the U.S. government's Bureau of Land Management. This area is not only world-renowned for its dig sites but for the rare dinosaur species that can be found here. Depending on when the paleontologists are working and the time of the season, we may be able to arrange for you and your children to spend a day digging up bones. It is amazing how kids, who are often impatient and have short attention spans, enjoy digging for hours concentrating on their task.
Off-Road & Scenic 4×4 Tours
Join us for a half-day or full-day tour in a well-equipped 1991 Chevy Suburban "The Red Dragon", or a comfortable heavy duty Dodge Laramie Meg-Cag equipped for mountain work. We leave the valley and climb, depending on the tour, between 1000 to 3000 feet in altitude. These are slow speed trips and most of the time we use 4×4 high and low gear. You will travel hunting, ranch, BLM and National Forest trails and enjoy beautiful vistas while your driver will entertain you and explain about the geography and history of the areas you are visiting. We don't promise to see wildlife, however most guests who have been on the tour call it "The Wildlife and Photography Tour". While we see game most of the time, we are not in control of their schedule.During Covid-19 times we do not organize these 4×4 tours as packing 4 or 5 people in a vehicle prevents keeping Social Distance.
Hiking & Mountain Biking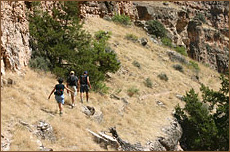 Our unique location in the Big Horn Mountains offers a rarely seen diversity of terrain and scenery for mountain bikers. It boasts superb mountain biking and hiking opportunities. We can guide you on trails that are an appropriate match, depending on your ambition level, physical condition, and map-reading skills. Call us ahead of time so we can arrange for appropriate bikes. Many of our guests who are into biking call this area the best hidden mountain bike paradise.
Pool life at The Hideout
The Hideout is thrilled to offer a beautiful, new pool for our guests. What is more rewarding and relaxing after a day in the saddle than dipping in a pool with crystal clear, refreshing water? Our 60' x 18' lap pool is 4 ½ – 5 feet in depth, and resembles an infinity pool as you swim directly towards Shell Canyon and the Big Horn Mountains. The pool is managed by a state-of-the-art computer and cleaning system using UV light, which reduces the use of harsh chemicals.
Adjacent to the pool is a stylish log pool house where guests can escape the strong Wyoming sun. The pool is secluded from the cabins and lodge to provide a peaceful and private place to relax.
During Covid-19, we urge guests to keep at least 6ft distance when swimming or spending time around the pool.