You, your horse and not a care for the world. Enjoy some
of the most diverse riding scenery in the world.
Comfortable, clean and cozy. Your on the range. Upscale, personal
and intimate. Family owned and operated. Not a resort.
Building unique, everlasting, multigenerational family and riding
memories.The Hideout is a riding and horsemanship ranch. No
nose to tail riding here! We do have non-riding activities.
Explore a unique variety of scenery and terrain. This is just
one of the many riding areas you will enjoy.
Healthy food that is delicious and prepared with care and
passion.Our food is one of the reasons repeat guests from
around the world return year after year.
Crystal clear heated lap pool. Breathtaking views all
around. Soothing after a long day in the saddle. Or just
take a break from riding to relax and soak up sun.
RESERVE DUDE RANCH VACATION: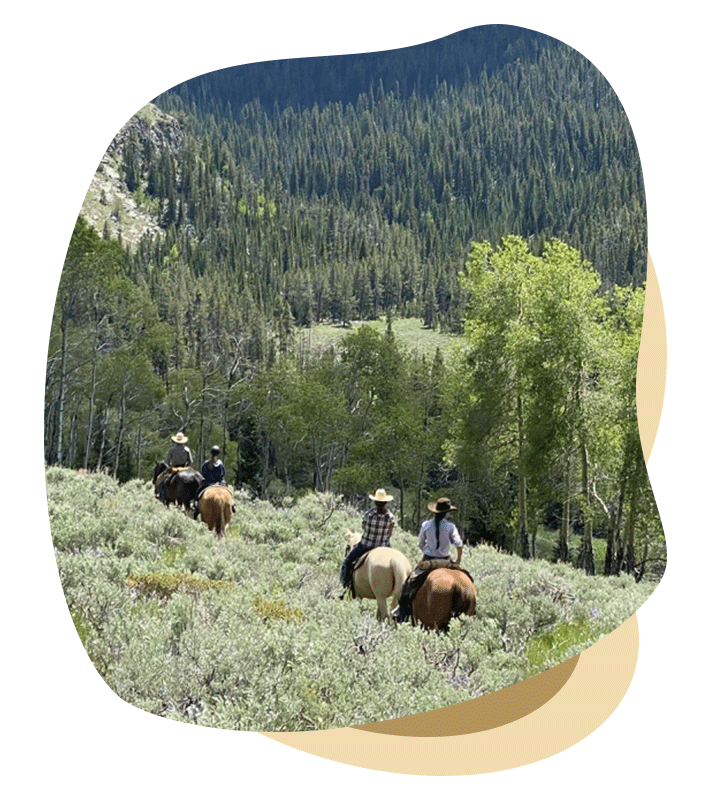 Your Yellowstone Hideout in Wyoming
The Hideout is located 1 hour east of Cody and 2 hours east of the East Entrance to Yellowstone National Park in the hamlet of Shell in the foothills of The Big Horn Mountains.
We are an all-inclusive, upscale riding and horsemanship guest ranch limited to about 25 guests weekly for a 6-night stay. Our guest testimonials describe that we offer a very personal, small, and intimate Western riding experience. While The Hideout offers a limited number of non-riding activities like trap shooting, archery and takes pride in a nice, heated lap pool, this ranch is all about riding, horsemanship, and horses. Both owners Marijn and Peter are very hands on, day to day involved with the well-being of our guests.

Guest Ranch Activities
The Hideout Lodge & Guest Ranch is foremost a riding destination.
This vacation is about horses, riding and horsemanship.

The Hideout Gallery & Video
he Hideout is in beautiful Shell, Wyoming East of Cody, and
Yellowstone National Park at the foot of The Big Horn Mountains.

Peter's Blog