The Hideout Story and Your Experience
The story of The Hideout Lodge & Guest Ranch consists of many tales and experiences that when melded together create "Your Experience". The stories below attempt to put into words the type of experience that you can expect while vacationing at The Hideout in Shell, Wyoming.
The story of The Hideout Staff, our secret…
Our staff comes from different backgrounds, cultures and education. Each staff member has a story that reflects why they love to work at The Hideout and why they believe that this is the best valley and place to call home. The Hideout staff all share a genuine passion for the West, hospitality, horses, respectful horsemanship, ranching, quality, the outdoors and being a part of offering you the best and most unique guest ranch vacation. We want The Hideout Lodge & Guest Ranch to be the best guest ranch to work at, as we believe a happy, well respected and passionate staff is the foundation of an exceptional guest experience.What sets us apart from most other guest ranches is that our key staff lives and works in Shell year-round with their family. Read more about our culture.
Many of our guests come to The Hideout looking for an experience that includes equestrian activities, the remote outdoors, an authentic ranch experience, upscale pampering and bonding with people from around the world. 
Guests are looking to enjoy a week in what they define as a "perfect world". Our repeat guests notice that each year we strive to do better and make improvements to The Hideout.Guests arrive from around the world and return frequently. Each guest has stories to share about The Hideout, but they will all agree that the reason they return is "The Hideout Story".
In the end, returning guests and positive word of mouth are the best way to understand our guests' satisfaction. We do not take this for granted. On the contrary, it puts more weight on our shoulders to do better every year.
Horses are the heart of any riding and horsemanship guest ranch. At The Hideout we invest a lot of time, resources, care, and training in our horses. All our young horses are started doing lots of groundwork and allowing them the time to mature gradually. We don't rush any horse through its training and handle them consistently. Therefore, we believe that our horses are as good as they get at a guest ranch.
Whether you ride every day or are swinging into the saddle for the first time, we have the horse that is right for you. Natural horsemanship is standard practice at The Hideout. This means we handle our horses in a gentle manner, designed to keep their stress, and ours, to an absolute minimum. Our year-around barn team continues to train and fine tune our guest ranch horses and offer clinics and training at The Hideout Lodge & Guest Ranch. Marijn, one of our owners, recently passed her Parelli Level 4 Certification. Throughout your stay we want you to learn more about riding and horsemanship. Most of our guests will ride different horses during their stay.
When it comes to trainers, clinics, methods, and philosophies of how to work, play and improve our horses and our staff, we are open to learn from any concept that is respectful, professional, fun, and ethical towards both horse and rider.
The Story of The Hideout Lodge & Guest Ranch
Paula and David founded The Hideout in 1995. The ranch started out as the new Trapper Creek Guest Ranch, named after one of the first guest ranches in this part of Wyoming, which was operational from 1899 through 1932. Owen Wister, Roosevelt, Hemmingway, NC, and TC Wyeth where some of the famous guests staying at Trapper Creek Guest Ranch.
In 2006, Peter (Paula's nephew) and his wife Marijn took over the reins and bought The Hideout in 2017. Over the years, the focus of The Hideout became more and more about riding, trail riding, horsemanship, and stockman ship and a growing number of riders from around the world.
Peter, leaving an international corporate job, moved from Brussels Belgium to Shell, Wyoming with Marijn and their twin sons Edward and Victor aged 13 at the time. The Hideout welcomes a growing number of visitors from around the world each year, and leverages diversity as an asset.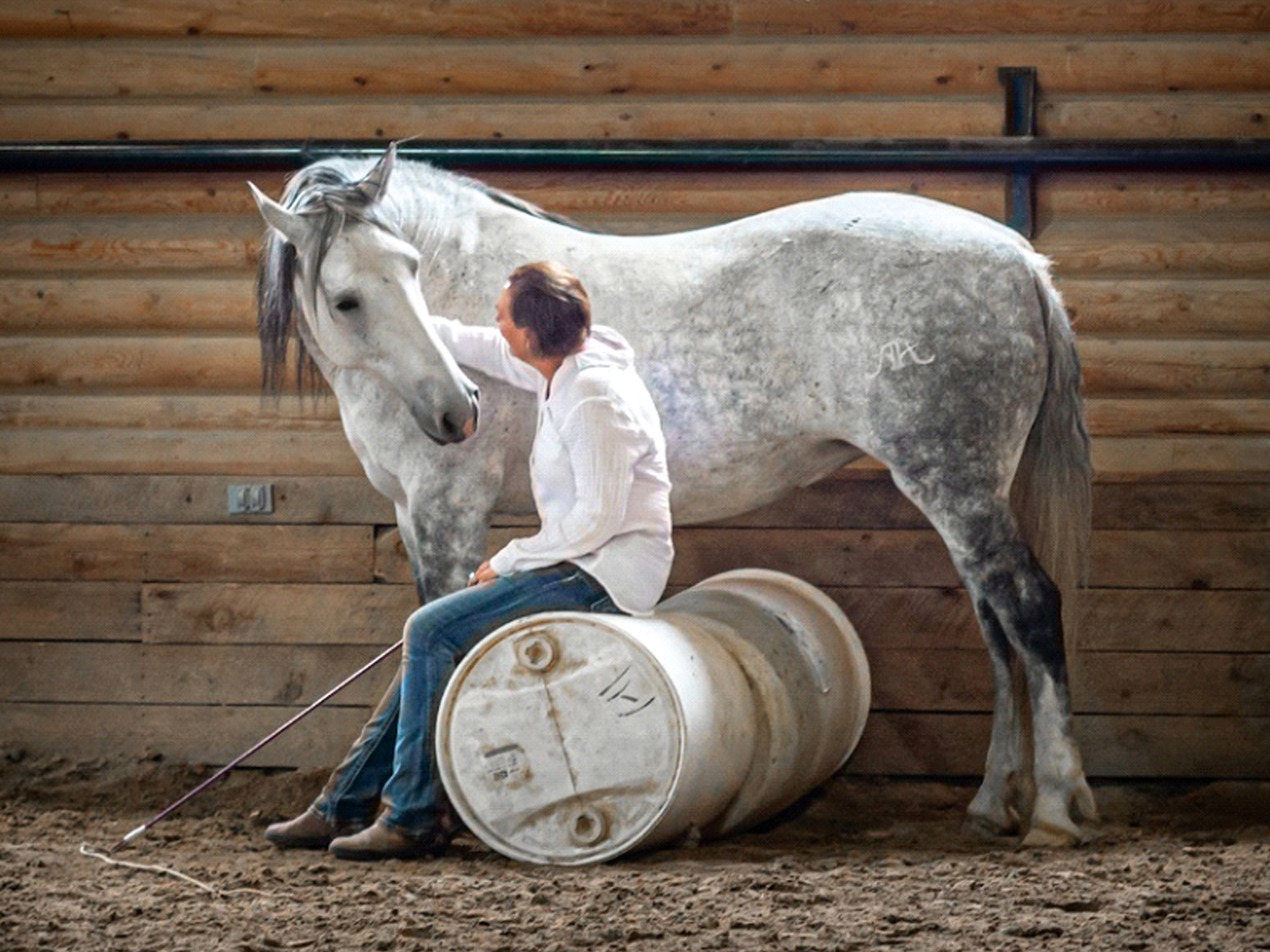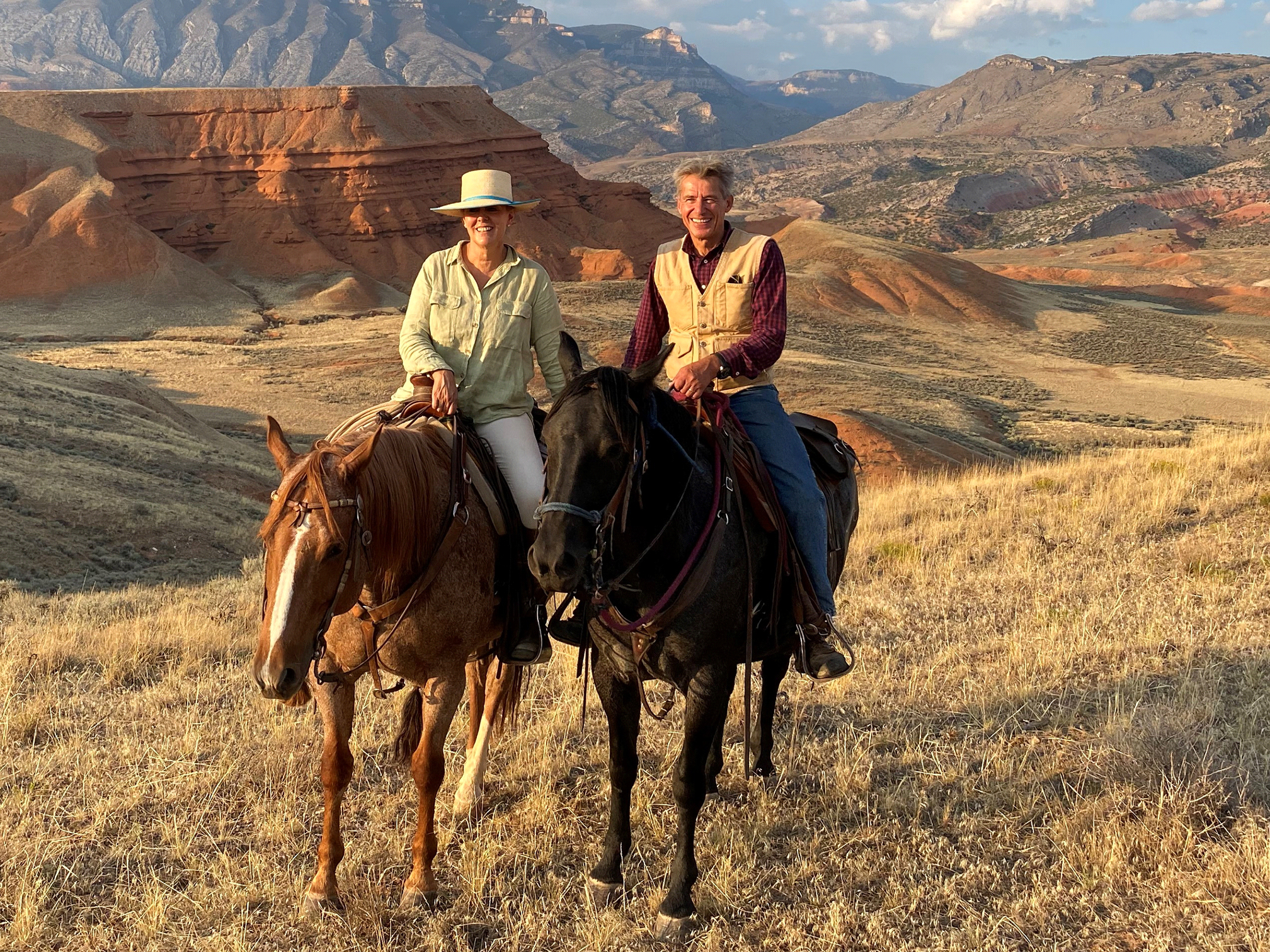 The next generation – Planning for the future
For our 2023 Guest Season we hope that one of our sons Victor and his wife Maria can join our team. You might also run in to our other son Edward who lives in Dallas and visits the ranch regularly.
Victor and his brother Edward, wrangled at The Hideout from age 14, throughout high school and college. Victor has lived and worked in Belgium, US and Ireland and loves traveling. Victor and Maria currently work and live in Belgium.
The Story of Shell and The Big Horn Basin.
The Hideout is located in Shell, Wyoming, (population 83, elevation 4200 feet) in the beautiful Shell Valley of the Big Horn Basin at the entrance of the dramatic Shell Canyon. It is only 110 miles east of Yellowstone National Park, and 76 miles east of Cody, Wyoming. 
The nearest town across the Big Horn Mountains is approximately a one-and-a-half hour drive.The story of Shell starts millions and millions of years ago, and the many exposed formations are a visible testimonial of this history. Shell is a popular destination for paleontologists from around the globe digging for rare species of dinosaur remains and other fossils.
Population 2.1 per Square Mile…
Wyoming is the least densely populated state in the West. The area of Shell enjoys a population of only 2.1 people per square mile. Compare this to New York City with over 27,000 people per square mile, and you realize that cattle, horses and wild animals outnumber people by large numbers
The Story of the Big Horn Mountains, the Big Horn National Forest and Cloud Peak Wilderness
At 4,200 feet in the high-desert valley of salt sage, cactus, and prehistoric dinosaur discoveries, we climb the rocky canyons of Shell Creek, White Creek, and Trapper Creek through wide-open range, to an elevation of over 10,000 feet in the Bighorn National Forest and Cloud Peak Wilderness.
The Big Horn National Forest comprises 1,300,000 acres and is one of the oldest National Forests in the US.
The Cloud Peak Wilderness Area at 187,000 acres, has elevations which measure up to 13,067 feet. The green alpine meadows and pine forests are home to the majestic elk and mule deer. Crystal-clear mountain lakes and streams harbor native trout.
With this as your back yard, The Hideout Lodge & Guest Ranch is the perfect spot for your next vacation