Wyoming Mountain Riding Guest Ranch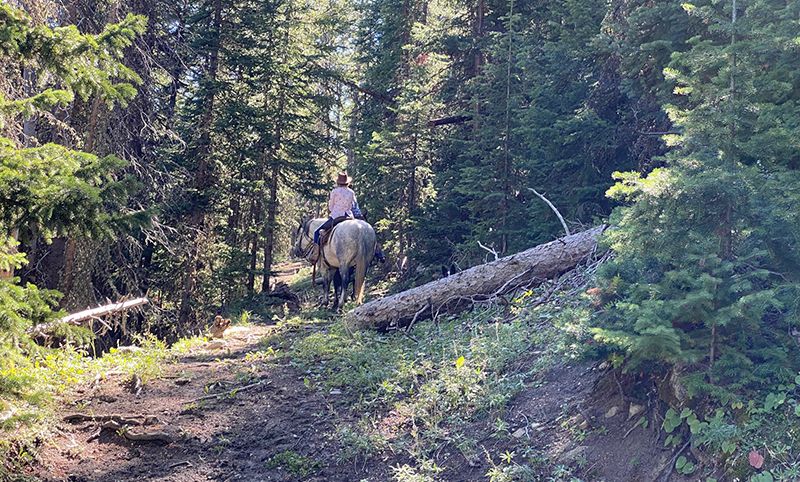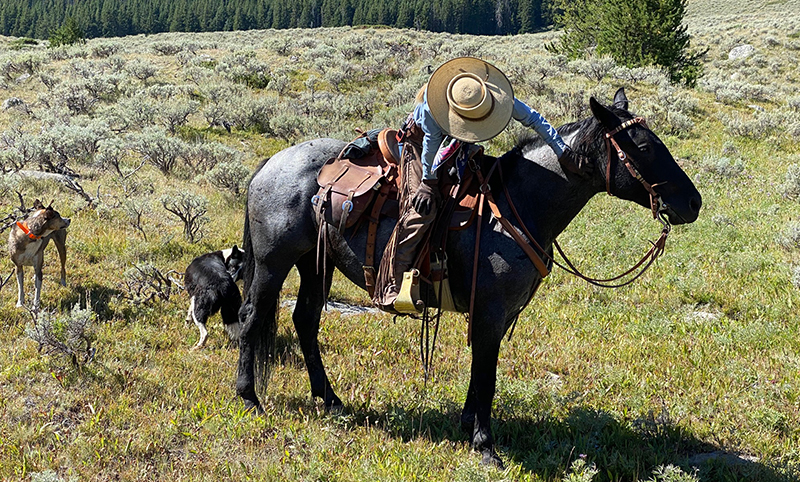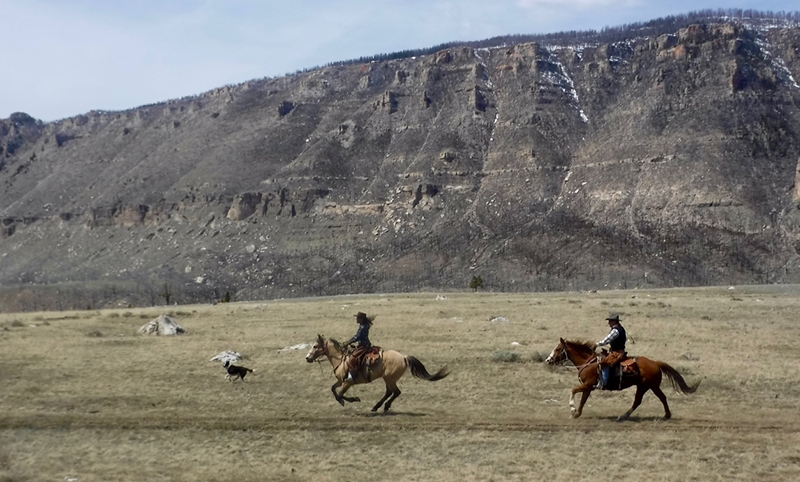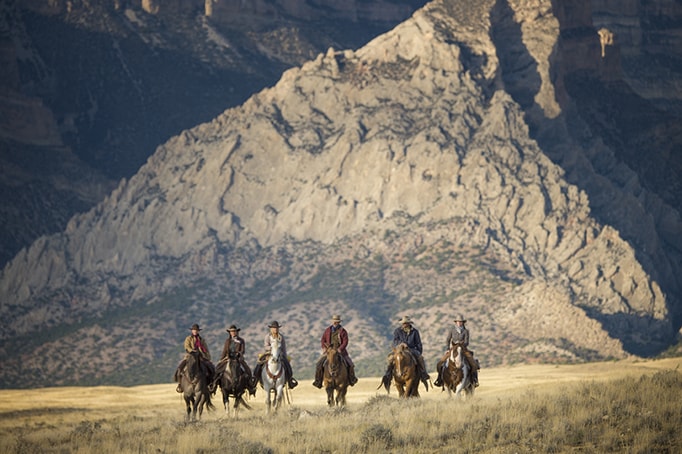 This is BIG country, and The Hideout Lodge & Guest Ranch is a riding guest ranch with great horses for all levels of riders. Our herd is compiled of Quarter Horses and a growing number of well-trained Mustangs for our guests to ride.
Depending on the season, we have access to approximately 650,000 acres of private and public land to ride and enjoy. This diverse land offers a seldom seen variety of scenery and terrain due to the many exposed geologic formations, some of which are over 2.5 billion years old.
A Unique Diversity of Scenery – A Trail Riding Paradise
Why do photographers, trail riders, hikers, and mountain bikers from around the world love traveling to Shell Valley and The Hideout?
One reason is the rarely seen diversity of scenery this area offers due to the elevations ranging from 4,200 feet in the valley to 13,200 feet in The Cloud Peak Wilderness. Wyoming is also one of the least populated areas in the United States and this area of Wyoming one of the least populated in the state.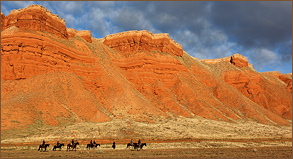 Below is a sample of some of the trail rides and terrain variety you might enjoy during your stay at The Hideout Lodge & Guest Ranch. While this area offers a unique variety of scenery, the goal of the below information is to offer examples of some of the areas we ride in.
Please also read Managing Expectations on this page.
High Desert and Canyons in the Shell Valley:
Ranging in elevation from 4,200 – 5,400 feet, these rides are mostly in the valley riding through the wide-open prairies, juniper trees, and rocky hidden canyons in which refreshing creeks flow surrounded by century old cottonwood trees.
We typically ride more in this area during Spring, early Summer, and late Fall when the temperatures are cooler, and we cannot ride in the mountains due to snow and weather conditions. All our half day rides take place in the valley and this area.
Mountain Pastures, Alpine Meadows, and High Country: 
You will see a variety of terrain above 7,500 feet riding through sage brush and high grasses imagining you are one of the cowboys in the movie Open Range or Lonesome Dove. We typically start riding these areas early Summer.
Elevations in these high-altitude areas range up to 10,000 feet. The High country offers alpine forests, mountain lakes, streams, and granite rock formations. Area's above 8,000 feet are usually snow covered from the end of September to mid-June depending on weather conditions. Most seasons we start riding in these areas by the end of June.
This ride features undulating red clay hills capped by wild grasses, sage and cacti. This intermediate ride culminates in a breathtaking vista from atop the famed Devil's Leap, which drops 800 feet beneath you.
White Creek & Trapper Creek Canyon: 
Step back in time 100 years. Your ride winds through a picturesque tree canopied path, past old timber corrals, over a wooden bridge and opens into a wide-open lane perfect for an easy lope. The trail during this half-day ride snakes through the canyon with several crossings of White and Trapper Creek.
A breathtaking high-altitude full-day day ride in The Big Horn National Forest which takes you through open alpine meadows and pine forests to a picturesque mountain lake surrounded by a gorgeous alpine meadow. During most seasons we only start riding this area early July through late September. 
As with all our rides, also this ride is weather permitting and depending on the condition of the trails. Wilderness rides take place in remote areas, and we carefully check weather conditions prior to offering these rides.
The Painted Hills: 
 This half-day ride wanders among mounds the Indians called The Painted Hills, which are hills with beautiful colors due to the vibrant, ancient minerals mixed with Bentonite. We reach these hills riding through the sage brush and grass prairies in the valley. Photographers LOVE this area.
The Sedona Ride: This area near Trapper Creek Ranch, offers a ride which feels like you are in the red desert of Arizona due to the red, exposed Chugwater formations and half-desert prairies – cactus, coyotes and rattle snakes included.
The Five Fingers Ride: This popular and thrilling valley ride takes you through rocky canyons with juniper trees and high desert while traveling along the slopes of the Big Horn Mountains, which rise 2,000 feet along your trail as a huge granite wall.
McCullough Peak Mustang Country: 
During fall, winter, and spring we ride this high desert area shared with the McCullough Peak Mustangs. When riding through this country, you will probably be able to see wild horses grazing alongside antelope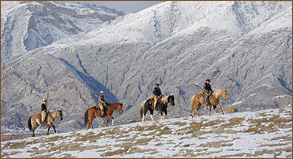 Endless riding opportunities…
The above trails are a fraction of what this area offers. Many of our repeat guests who have been coming to The Hideout for over 10 years see different country and trails every time they visit. Even our year-round staff and family members who have been living here for many years see new country on the ranch every year.
The average length of time spent in the saddle each day is between 2 and 6 hours
although some rides may take longer or be shorter. Your wrangler will be more than happy to accommodate your requests if possible. If it is safe, feasible and there are 3 or 4 people interested in the ride and depending on weather conditions and riding level, we can usually make it happen.
Riding Expectations
When organizing rides, we carefully consider the riders abilities, fitness, and expectations. We also look at such things as the character of horse and rider, light handed or heavy-handed riders, athletic ability, and other factors.
Due to the wide variety of terrain in which we ride, it is not uncommon to encounter large temperature variations. Your riding opportunities will change depending on weather, location, and difficulty of terrain.
Managing expectations
While we always try to accommodate the wishes and desires of our guests, the decision where to ride and if the weather will allow certain rides will always be made by The Hideout. We base our decisions on years of experience taking riders out.  In addition to the physical fitness, health, balance, riding level of our guests, we always consider weather conditions like heat, smoke, cold, thunder, lightning, heave rain, hail, or snowfall, in addition to forest fires and smoke from forest fires.  Safety First!
Helmets are Required for Children 14 Years of Age and Under
The Hideout Lodge & Guest Ranch offers a fun and safe riding experience. Our safety program requires all children 14 years of age and under to wear riding helmets without exception. Helmets are also encouraged for our adult riders, but not required.
Your Riding Guides & Wranglers
To enhance your time spent in the saddle, you may experience a rotation of experienced, knowledgeable wranglers. Each of our wranglers knows this country and offers unique perspectives with a wide diversity of information about the trails and areas you will encounter.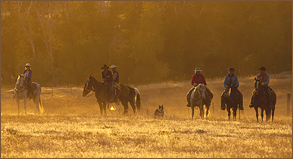 The Hideout is a riding, horsemanship and working cattle guest ranch which means that our guests come to The Hideout for a wide variety of equestrian related experiences and with a wide variety of riding levels, riding disciplines and riding experiences.
The entire barn team has extensive riding, equestrian and people experience to accommodate the above as best as possible.
Loping…
We do lope during the intermediate and advanced rides, but as we often ride challenging terrain, the trot is the preferred and safer gate.
The local cowboys seldom lope their horses in these areas because it is considered dangerous for both horse and rider. Their preferred gait is a fast trot to cover long distances in a safe manner.
It is also important to bear in mind that the lowest elevation we ride is at 4,200 feet in the valley. During the full day rides in summer and fall, we operate at elevations between 6,800 and 11,000 feet. Even the best horse will not lope very long at these elevations. Please consider that during some of the advanced full-day rides, your mount will need to last 6 to 8 hours a day in addition to lasting an entire riding season. Our wranglers know where there are safe areas to lope or go faster.
Control over your horse
It is important to us that our guests have control over their horse and can ride with balance.
The faster you go, the more proactive and defensive your riding needs to be. Horseback riding is a sport that holds more risks than playing cards.
Although we have great, well trained, and healthy horses that are well adapted to this terrain and environment, they are flight animals. Given the terrain we ride in, our orientation is more comprehensive than most other places to set you up for success. You should know your limitations and are responsible for your own safety.