Ranch Management & Leadership Culture
Peter De Cabooter and his wife Marijn Werquin are the owners of The Hideout. They moved over from Brussels, Belgium in 2006 with their two sons who were 13 at the time to help Peter's aunt Paula manage the ranch. They took over full management in 2007, eventually buying the ranch from Paula.
Peter De Cabooter, a Belgian native born in the Congo (Africa) and, and his wife Marijn Werquin are both Belgian natives, well-travelled and experienced managing diverse cultures. Under their management quality people like Tom & Rebecca, Melanie, Rachel, our wranglers, kitchen and housekeeping staff came on board. Other long-time employees like Marco & Ever Chavez in charge of Maintenance and Guille Sosa our housekeeping manager continued to work at The Hideout. Other employees have been returning season after season since many years.
That is your team at The Hideout who will make sure you not only feel at home, like family but that this is also a meaningful, fun and unique experience.
Over the years The Hideout started to focus much stronger ranch leadership and management culture making sure this is a great place to work for our entire team. Only then we can really deliver the quality and care our guests expect us to deliver. Our goal is to excel in each area of the ranch and any activity we decide to get involved in. It means keeping focus on what we get involved in and what we do not get involved in.
This is a riding ranch which means that increasingly our focus is on the quality of horse, riding and horsemanship culture. Over the years better quality horses were added, supported by natural horsemanship, clinics and classes. Some of the rougher approaches to horses and livestock were replaced by Buckaroo and soft hand natural horsemanship in sync with the old-time ethics and ways of handling animals. Today's seasonal wranglers are required to have solid horsemanship skills and a consistent approach to the above culture.
Key to our guest service and experience is our strong culture of respecting whoever works at The Hideout and realize that a great working environment and culture are the foundations of an exceptional guest experience.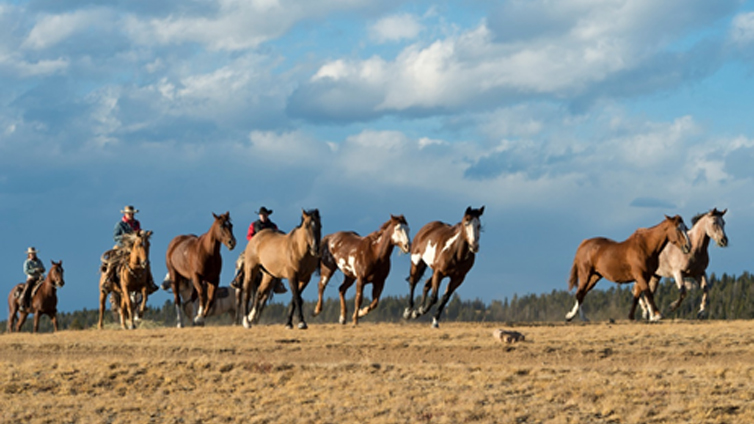 The number one foundation to a great guest and hospitality experience, sound and healthy horses, safety and care is that our team feels cared for and respected. That they enjoy working here. Only then they will care and go the extra length in a spontaneous way showing our guests a great time at the ranch.
Peter and Marijn introduced The Hideout Culture of The 3 C's, Character, Conduct and Competence, knowing that one can train for Competence, but not for the Character and Conduct.
It is our vision and goal that The Hideout will continue to evolve in such a way that leads to great service for our guests and responsible stewardship of the land. We constantly look to improve things and always adopt an open positive mind to the world. The Hideout embraces diversity as an asset if it delivers quality and positive added value. Above all we are committed to respectful and relationship based natural horsemanship and a great ranch to work for ourselves and our teams.