Tammy Pate Ladies
Horsemanship and Yoga Retreat
April 7-13, 2019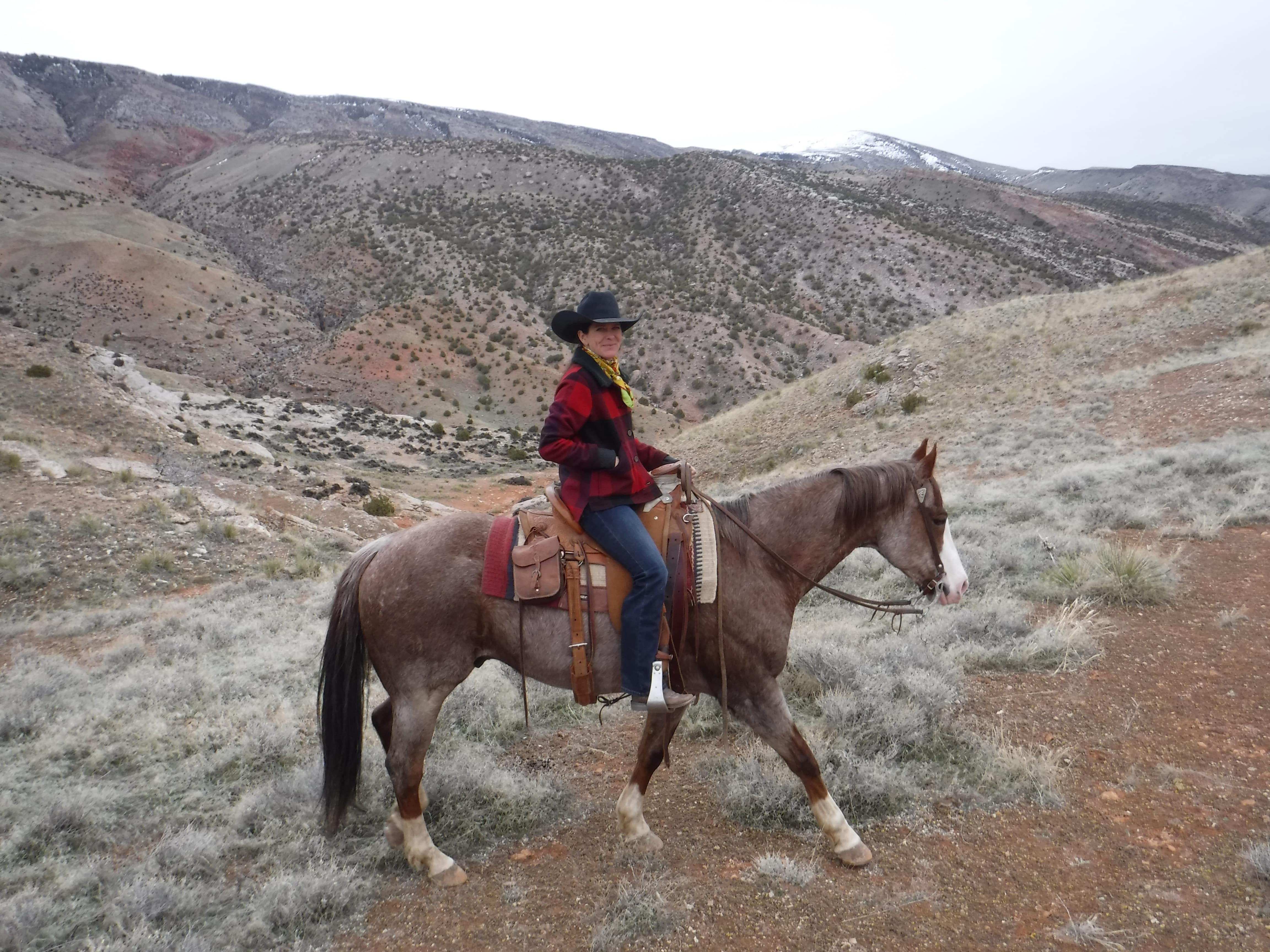 The Hideout Lodge & Guest Ranch is pleased to offer the Tammy Pate Ladies Horsemanship and Yoga Retreat April 7-13, 2019. The cost of the six night stay will be $2,885 which is inclusive of tax, service charge and a round-trip transfer from Cody. Also included are riding, horsemanship, cattle work, yoga with Tammy, all meals including cocktail hour and lovely accommodations.
The Hideout Lodge & Guest Ranch located in Shell, Wyoming – East of Cody and Yellowstone Park, enjoys a strong reputation offering an upscale riding, horsemanship and working cattle experience. Clinics and
retreats with renowned clinicians like Tammy Pate are part of our concept.Tammy's clinic offers a unique combination of riding, horsemanship, working cattle both in the arena and on the range, and also yoga. Don't wait too long to sign up as the clinic has limited spaces.
In order to confirm this special week we do require a 30% deposit to confirm your stay. That amount will be $865.50 with the final balance due 30 days in advance of your stay. For reservations please call The Hideout office at 307-765-2080 or email info@thehideout.com.
Upon booking we will send an Incoming Guest Questionnaire and a detailed list of what to bring.The most important item to bring is your enthusiasm and willingness to learn and play with your horse.
About Tammy Pate
Tammy Pate was raised on horseback. Born into a ranching family in Montana, her father was a rodeo steer wrestler who spent his free time teaching Tammy and her sisters about horsemanship and riding. Her grandmother, Betty, instilled the deep values of the ranching life: a reverence for nature and the practical skills families need for the demands of their rural ranching life.
Tammymarried her husband, Curt Pate and followed him into the demanding life of managing a cow camp. Together they developed innovative, gentle ways of training horses and managing livestock. During this time, she raised her own children in the saddle, carrying them with her on horseback to work with Curt on the ranch.
These rich experiences, along with a growing interest in the benefits of Yoga on the equestrian body, have led Tammy to share her horsemanship and yoga knowledge.
Tammy's Horsemanship and Yoga retreats are designed to bring awareness of mental and physical balance, gain confidence and above all, improve communication through timing, balance and feel with your horse.
Tammy's clinic will focus on the following:

Increase your Inner Balance through personal yoga practice
Be in the proper frame of mind before interacting with livestock
Develop feel with your horse through timing and balance
How to position and approach cattle to handle them effectively
Learn behavioral aspects of horses and cattle
Ranch culture
Gain confidence while pushing the edge of your comfort zone
This retreat is designed to help develop a stronger horse and human partnership. The emphasis is on building and refining the skills needed to advance riders toward their goals, whether on a ranch, on the
trail, or in the show ring. Riders of all levels and disciplines will benefit from insights and deep understanding of horses and cattle.