Your Yellowstone Hideout in Wyoming
The Hideout is located 1 hour east of Cody and 2 hours east of the East Entrance to Yellowstone National Park in the hamlet of Shell in the foothills of The Big Horn Mountains.
We are an all-inclusive, upscale riding and horsemanship guest ranch limited to about 25 guests weekly for a 6-night stay. Our guest testimonials describe that we offer a very personal, small, and intimate Western riding experience. While The Hideout offers a limited number of non-riding activities like trap shooting, archery and takes pride in a nice, heated lap pool, this ranch is all about riding, horsemanship, and horses. Both owners Marijn and Peter are very hands on, day to day involved with the well-being of our guests.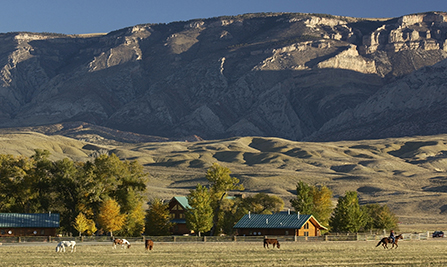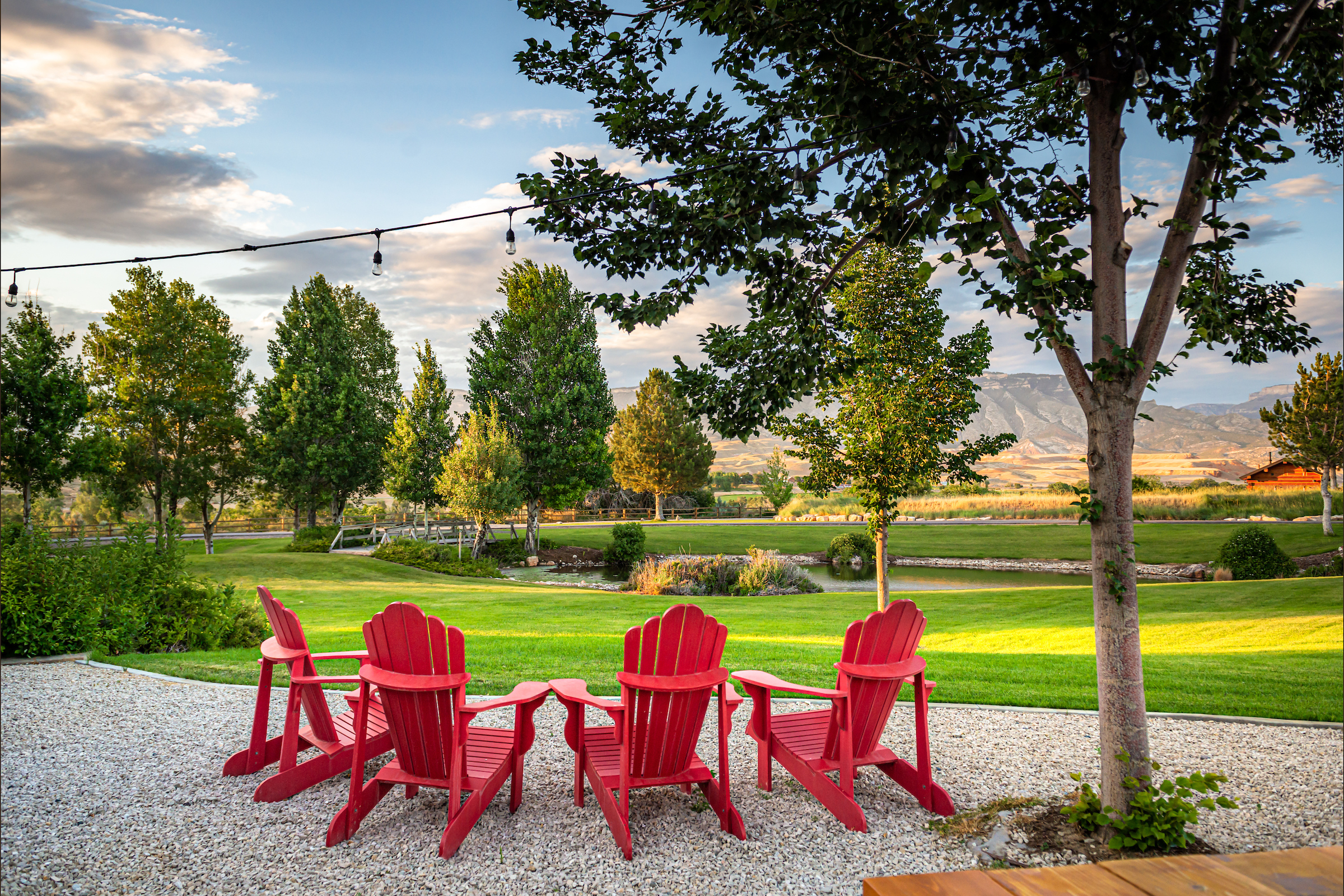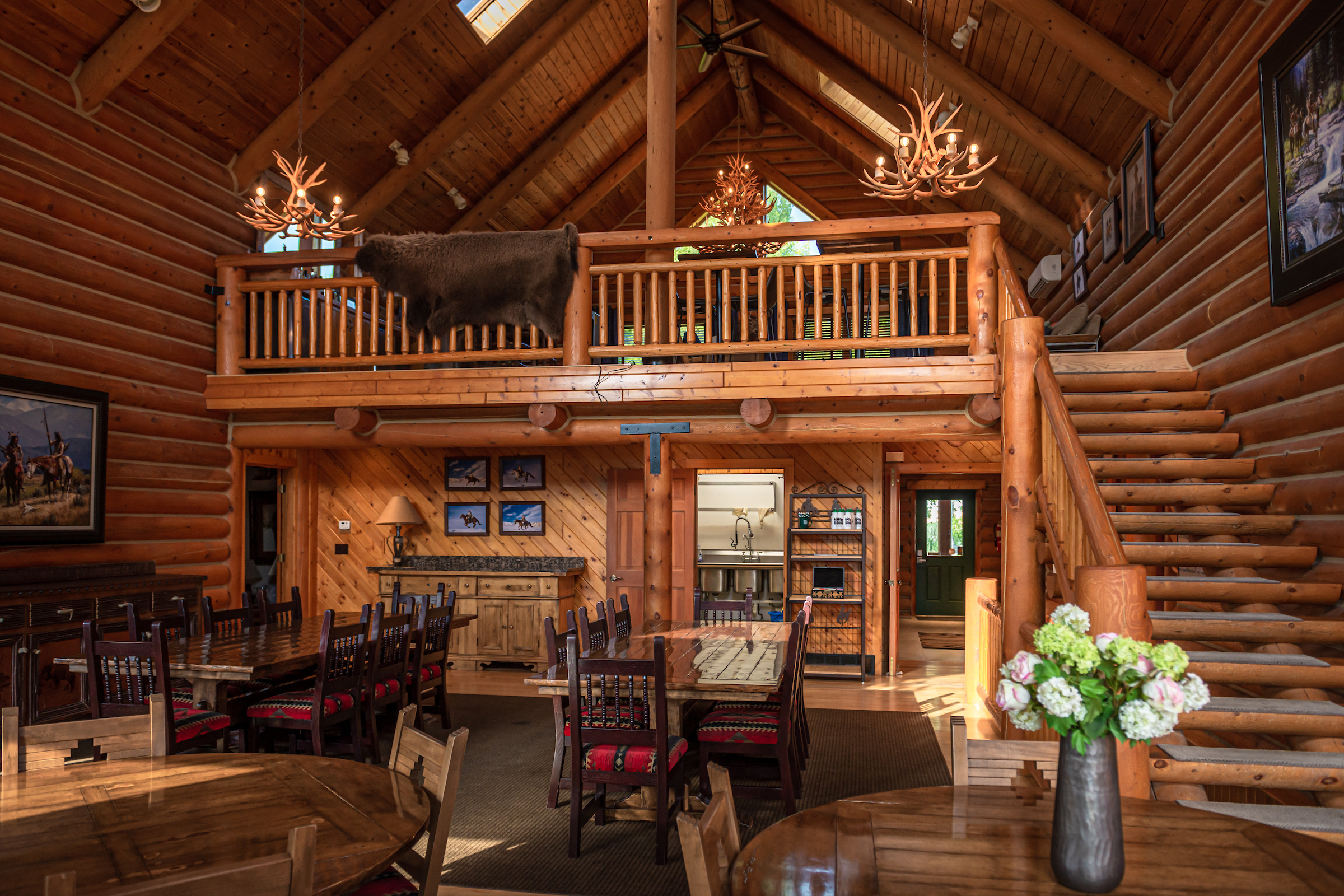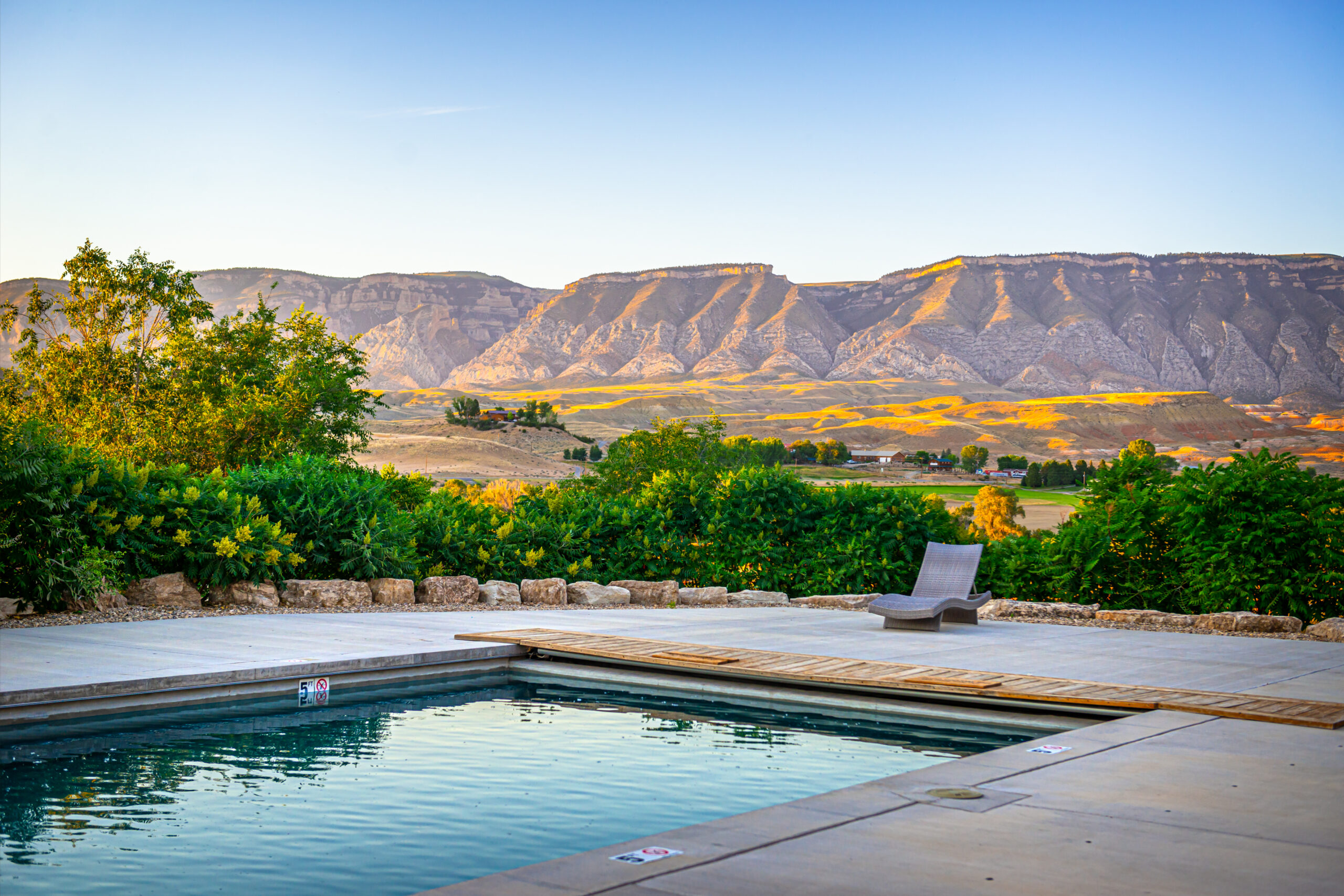 Perfect does not exist, but our goal at The Hideout is to offer our guests an almost perfect riding and equestrian experience hiding out from the rest of the world. This is a truly unique place where everybody from guests, staff and horses feels cared for and respected.
The Hideout has always been an organized, well-maintained, fun boutique style guest ranch.
Trail ride and hack on a 650,000 Acre Riding Paradise in Wyoming
Elevations in this area range from 4,200 to 13,100 feet and offer a unique variety of terrain and scenery resulting in a broad range of climates and biodiversity. With close to 650,000 acres to explore you will seldom ride the same trail twice or feel crowded. The terrain in which we ride ranges from mountain tops to meadows, alpine forests to Sedona-like red rock country, high deserts to mountain creeks and lakes.
Most of the pictures on our site are taken by our wranglers during day-to-day rides throughout the season. A common observation of our guests and professional photographers, is that no picture can describe the way it looks in real life.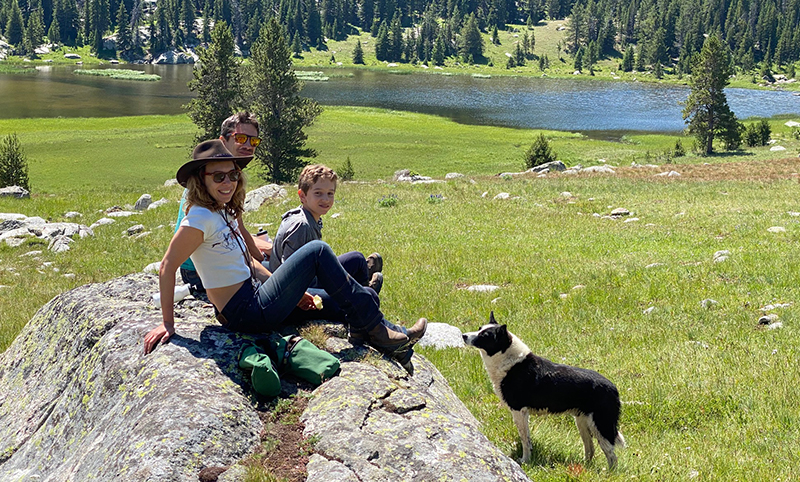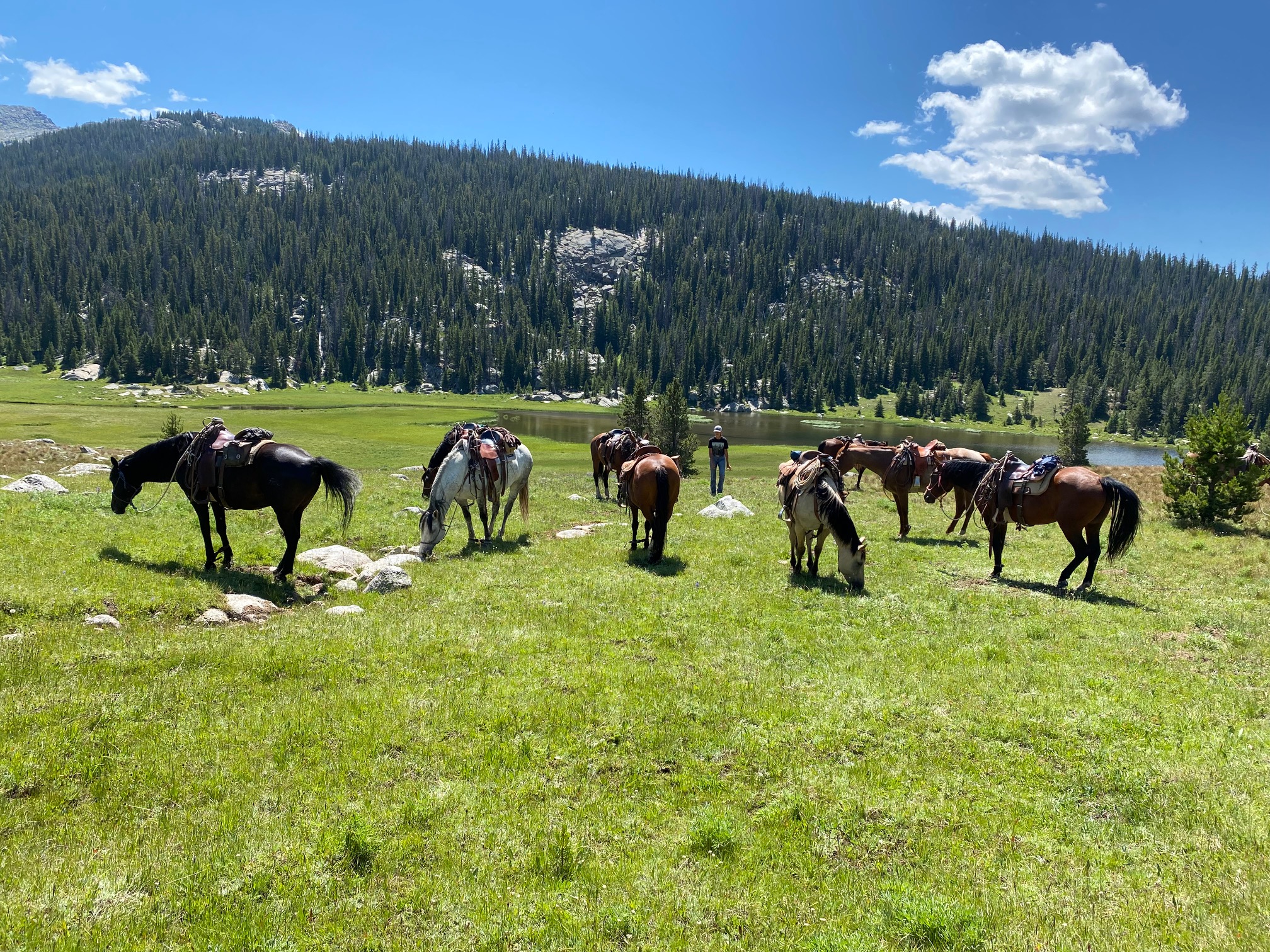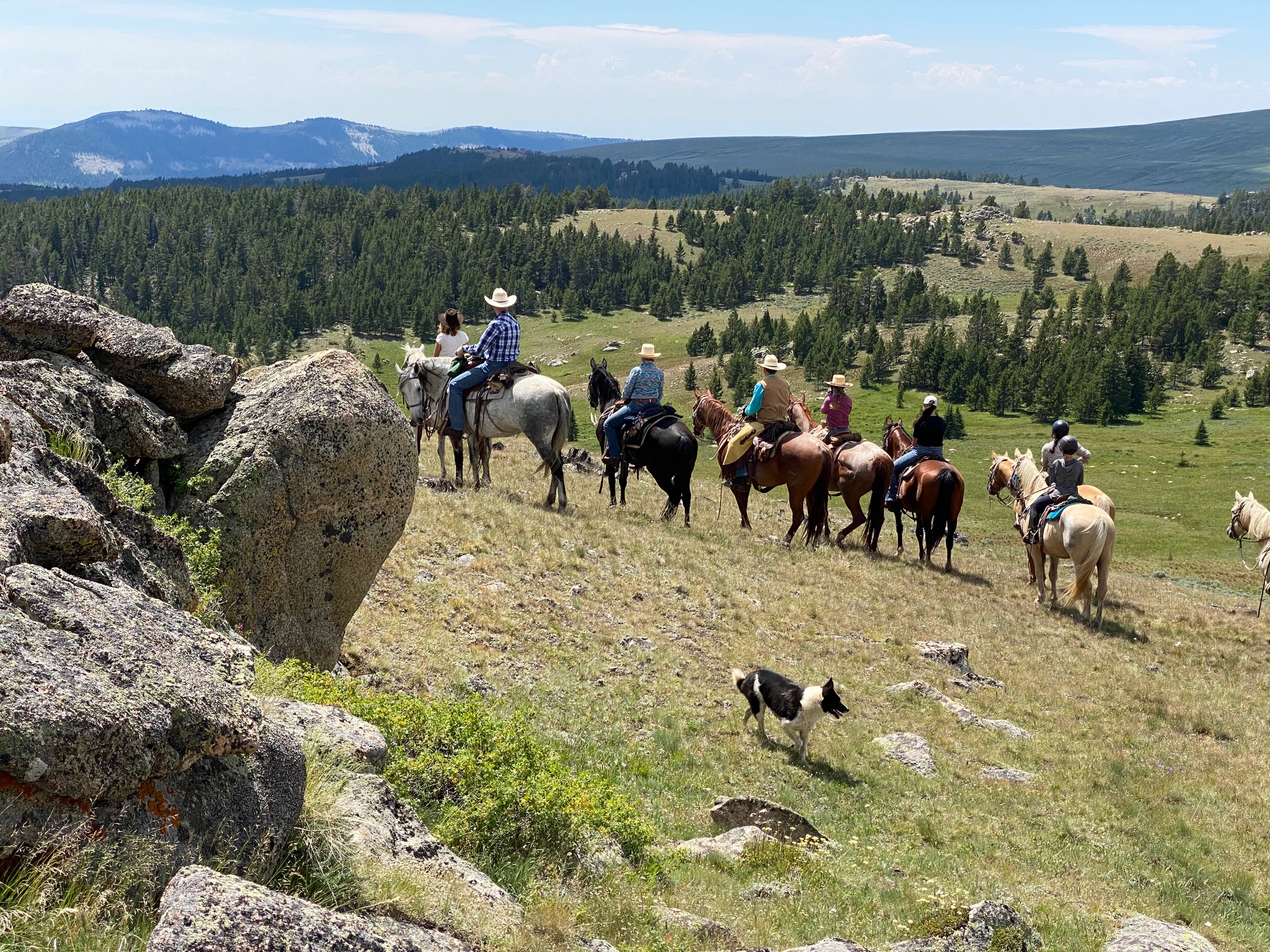 Riding at The Hideout
Every day we load up our horses and guests and drive out to a variety of trailheads to saddle up and discover this vast and diverse area. We have 8 well-maintained comfortable heavy duty Chevy trucks and Featherlite trailers. From April through the beginning of June and late Fall we mostly ride in the Shell Valley. The rest of the year we ride a lot at higher elevations in the Big Horn Mountains.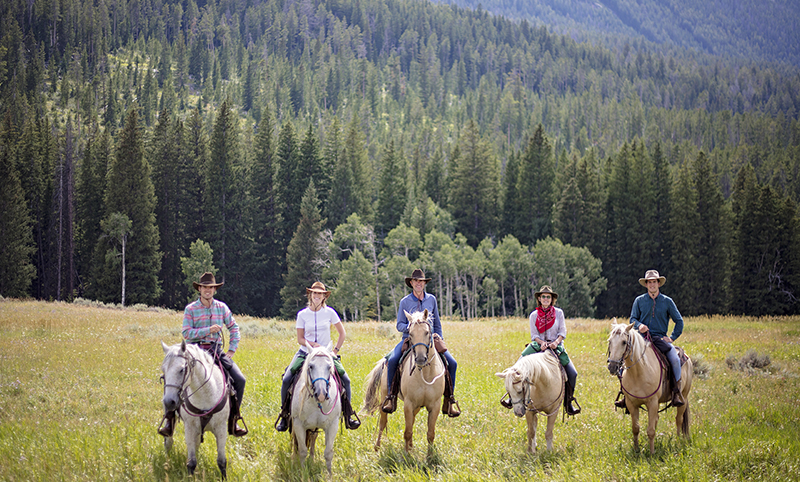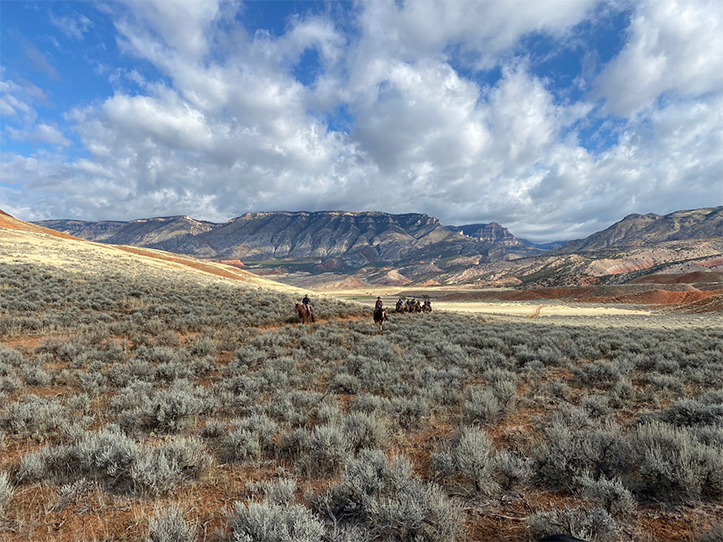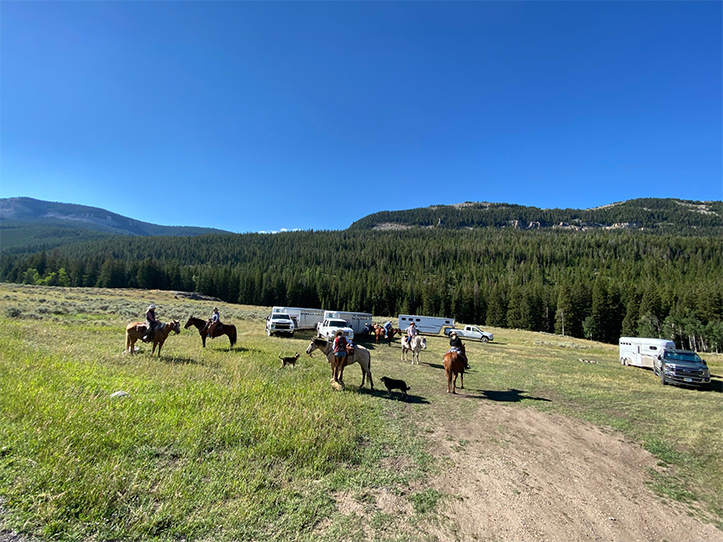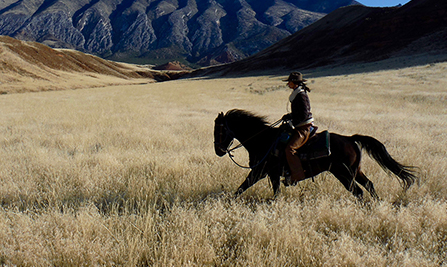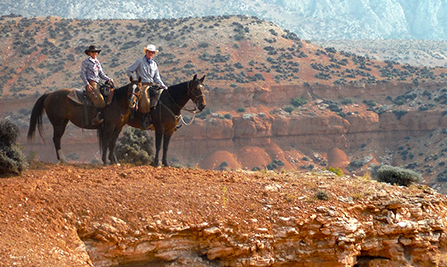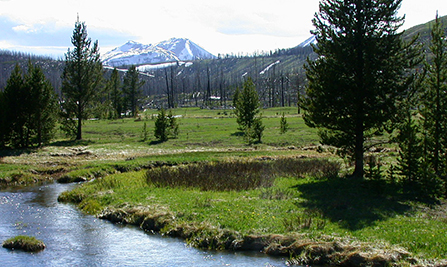 Our Horses – During your stay you will ride different horses
Our herd consists of Quarter Horses and an ever-growing number of Mustangs, adopted through various Bureau of Land Management wild horse adoption programs.
All our horses are well-trained and started using lots of groundwork. Our guests and all veterinarians visiting The Hideout often comment that even at the end of the season all our horses look as healthy and happy as the first day they went to work.
Given the terrain and elevations we ride, and we treat our horses with care and respect, we have a strict weight limit of 230 lbs. fully dressed to ride.
Upscale Lodging and Food – Your boutique ranch on the range
Your riding experience at The Hideout is surrounded by an authentic and quality hospitality experience. To us, mealtime means more than simply putting food on the table. It comes with the warmth and hospitality you expect when you go to your family's house to visit. Our kitchen is more about quality and serving healthy food rather than quantity. We cater to a variety of diets within reason.
All our cabins and lodging are well-maintained, upgraded on a regular basis and we like a clean and organized environment.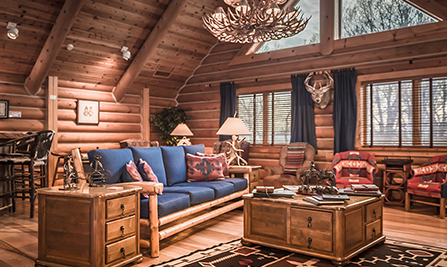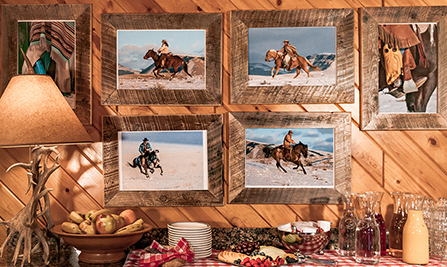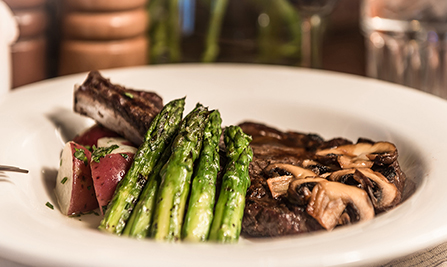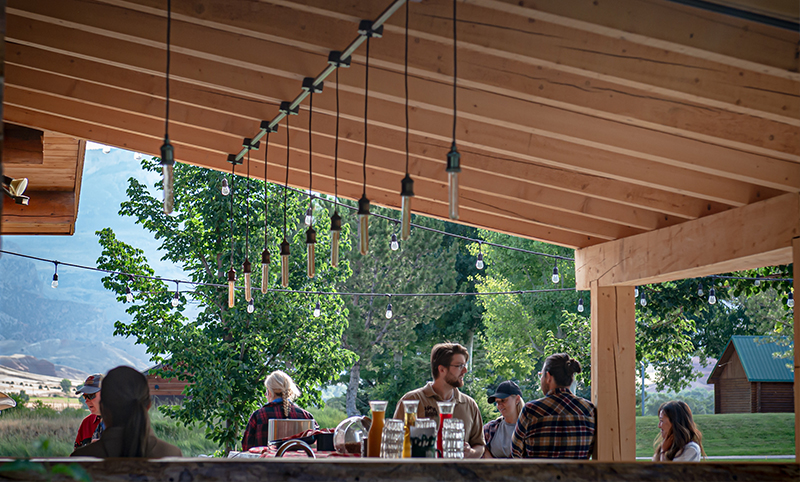 We strive to offer excellence in hospitality, lodging and culinary pampering. By limiting our guests to approximately 25 riders each week, The Hideout keeps guests' experience personal, authentic, and as customized as possible. Many guests return each year because of our staff. We hire using the 3 C's of Character, Conduct and Competence and invest in the training and general well-being of our staff. With a high one-to-one staff to guest ratio, we do not cut corners when it comes to service and hospitality. Our staff consists of a team of professionals who enjoy working here. Some have been with us for over 20 years.
Authentic Horsemanship – Our Brand at The Hideout
"Authentic Horsemanship is our brand of relationship-based horsemanship. We communicate with our horses in a non-verbal way where we use pressure and release to encourage our horses to respond. That's how we establish trust and connection through consistent leadership. We carry this approach of kindness and encouragement throughout our whole organization – this is the core of our hospitality culture."
At the end of the day
Being outdoors, riding, the altitude and just a change of your daily routine enjoying this big wide country will make you tired at the end of the day – tired in a healthy, peaceful way. After a enjoying a well-deserved shower and a dip in the pool, each evening we head to the outside or inside bar where everybody gathers to exchange their stories and adventures of the day. A special treat during cocktail hour is watching the pictures taken each day by our wranglers during the rides and activities.
Big Horn County where we are located encompasses approximately 2,000,000 acres / 5,015 square miles, and a population of barely 13,000. With our air being pure, we have little light pollution so you can see all the stars and falling stars. Outside you will hear nature, water, horses nickering in the pasture, the wind and wildlife – things go very quiet. We don't organize any evening programs. Guests enjoy visiting and exchanging stories with newly made friends, play games, hang out enjoying laughs and drinks, or take it all in sitting in a rocking chair on the porch.
What your next day at The Hideout?
Each day during cocktail hour, one of owners, Marijn, or one of our senior wranglers, visits personally with each guest to discuss the available adventures for the next day. Full day ride? Half day or two half day rides? Trapshooting? Archery? Or taking a break to sit at the pool, take a hike, a visit to Cody and the Cody Rodeo?
To make sure we have enough wranglers, we usually need 3 to 4 participants per activity. However, if we can make it work with less participants we will!
All-Inclusive Family and Multigenerational Adventure Vacation
During the summer months and spring break we host a growing number of families with older children and young adults.
We believe that a family vacation involves parents and children participating in, enjoying and sharing the same experiences. Therefore, we do not offer a formal "children's program". We strive to treat children as young adults and to offer them the full Hideout Experience. The Hideout welcomes children from the age of eight.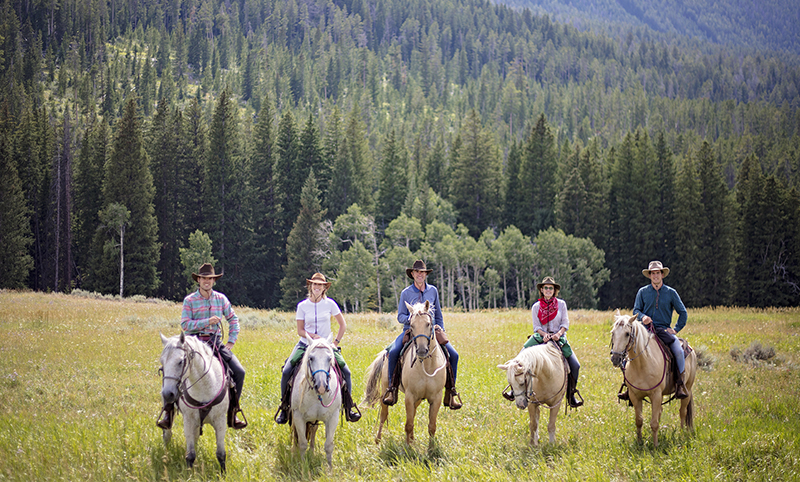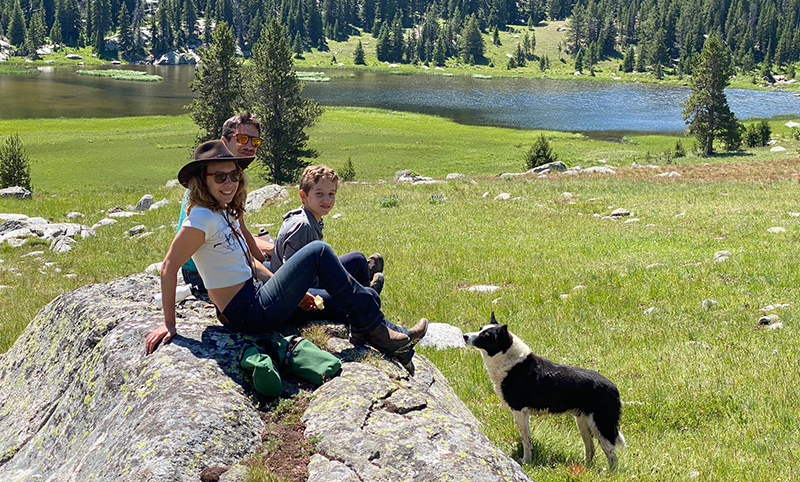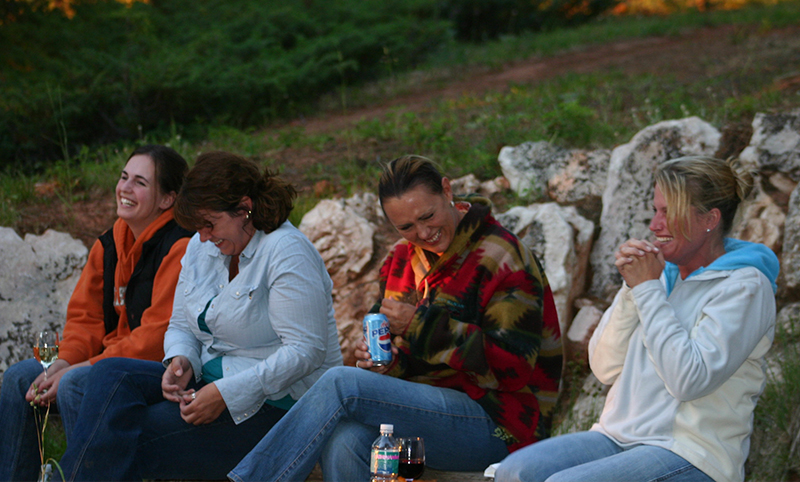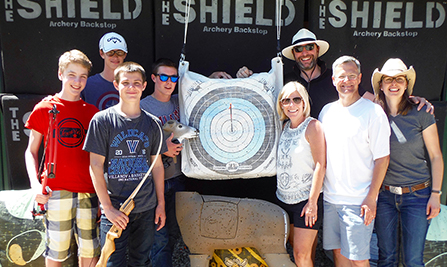 Our experience is typically focused on adults and families with older children who have some equestrian experience or are in good physical condition. Because we do not have a children's program, parents are required to supervise and go along with their children on all riding and non-riding activities.
Most of our visiting families are eager to learn new things while exploring and enjoying new experiences together. They are looking to build long lasting, exciting and interesting memories. This is a life changing vacation experience. It is fun and adventurous, but families will also learn about ranching, farming, horses, nature and will meet other guests from a variety of countries and cultures.
In addition to our more mature year-round staff, we typically employ some younger wranglers during the summer months. Our family and staffs' families represent all ages from 11 to 80 years of age, which makes The Hideout a multigenerational vacation destination.
Adult Vacations
While we host families with older children during the summer months, The Hideout is mainly an adult-oriented ranch. Having families at The Hideout does not change our adult guests experience during the summer season.
Our year-round wranglers are more mature and relate well to the adults that travel to The Hideout. Even though we have families visiting during the summer months, we also have many adult travelers in the summer season. Because we have a minimum age requirement and do not offer a children's program, the families who come to The Hideout treat their children as young adults. With the small number of guests at The Hideout, we can keep your vacation personalized and exactly what you are looking for.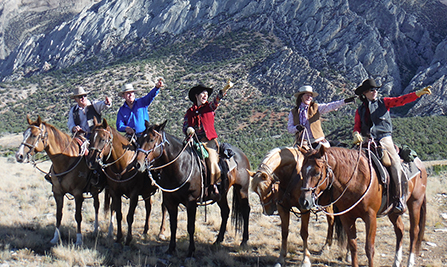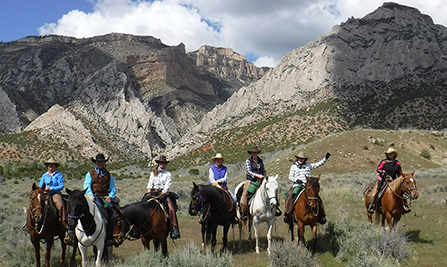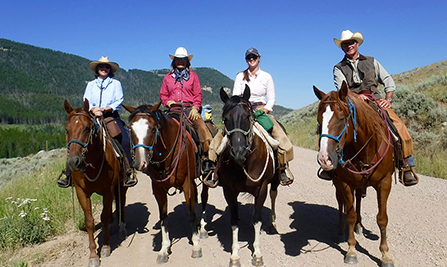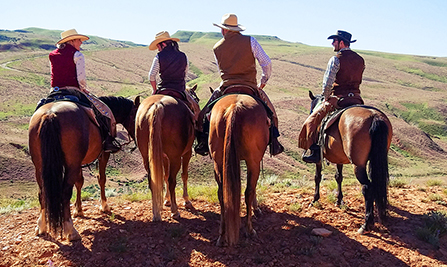 Solo Travelers
The Hideout Lodge & Guest Ranch is an excellent destination for solo travelers. Solo travelers will find the size and concept of The Hideout an easygoing and welcoming vacation. Solo travelers will never feel left out or alone during their week. Because of its small size, friendly and accommodating staff, and the family-like atmosphere, you will feel part of the family the very moment you arrive at our ranch.
Our Horses – Authentic (AH) Horsemanship and Training
If horseback riding, herding cattle and enjoying the great outdoors in Wyoming is your idea of a perfect Western vacation then The Hideout is ideal for you. We have a variety of horses that are well taken care of and can be matched to any riding-level. The Hideout Lodge & Guest Ranch is not your typical "Nose to Tail" dude ranch, but is a riding, horsemanship and working cattle guest ranch. Each rider will be matched to a horse based on their riding ability and will experience the vacation they are looking for.
Advanced riders will find hundreds of thousands of acres to ride, on great horses with experienced and knowledgeable cowboys, wranglers and guides. Beginner riders will find patient teachers and instructors who enjoy sharing their love and passion for riding. Every level of rider can participate in cattle work, contrary to what many people think.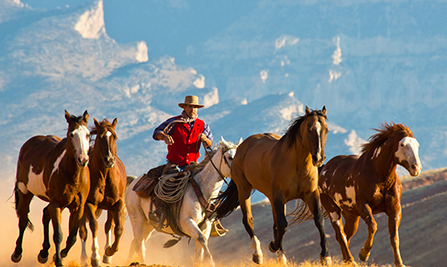 Our horse program is managed by AH Horsemanship & Training and every year clinicians visit The Hideout for training, clinics and to ride with our staff and guests. The key to Authentic Horsemanship is having an open mind towards horsemanship, riding and horses and the desire to continue learning where we can. We regularly offer half-day clinics, so interested guests can gain a deeper understanding of our style of horsemanship.
Our string of horses consists of excellent Quarter Horses of fine bloodlines, well-bred Paint Horses, cow and trail horses, and over the last few years we have been adding more and more well-trained Mustangs to our herd.
Non-Riding Adventures
With all the terrain to explore on private lands, BLM, The Big Horn National Forest and Cloud Peak Wilderness, The Hideout is an adventure all on its own. With elevations ranging from 4,200 to 13,100 feet, we have an almost unheard-of diversity of scenery, climates, and biodiversity.
The Hideout offers a number of non-riding activities such as trapshooting, biking, hiking, ranch tours and a beautiful lap pool. To manage expectations however, this ranch is mostly about riding and horsemanship.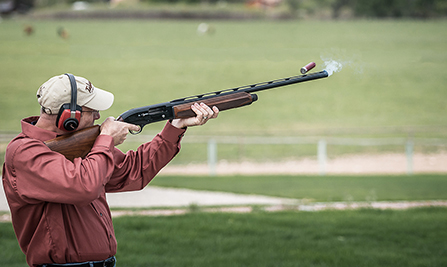 To ride at The Hideout one must be in good physical condition and be realistic about one's capabilities.
Add to this the diversity of cultures, languages, generations and backgrounds of our staff, family and guests from around the world and you will find out why we are not "Your Typical Guest Ranch".
The Hideout Experience!
Many of our staff and an ever-growing number of guests return year after year. If you ask our staff and guests from around the world why they return year after year, they will give you a variety of reasons why they visit The Hideout Lodge & Guest Ranch.
Some will point out that we strive to make each year's visit as good or better than their last. Adding a little something special season after season. They will talk to you about the quality of our horses, staff, tack, equipment and how well kept the cabins and grounds are.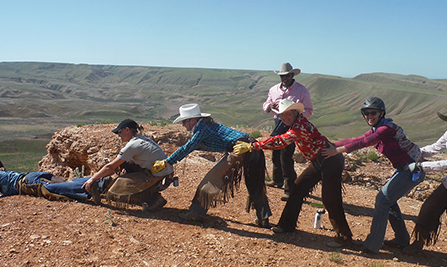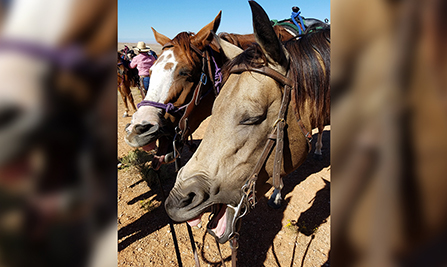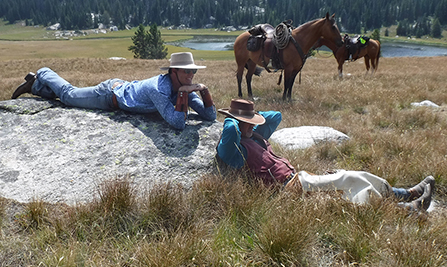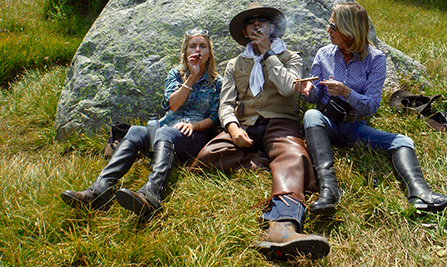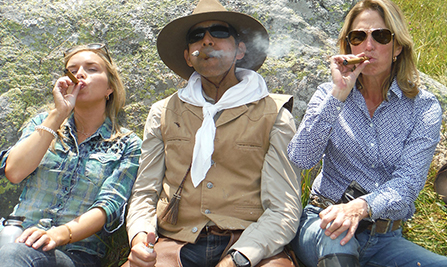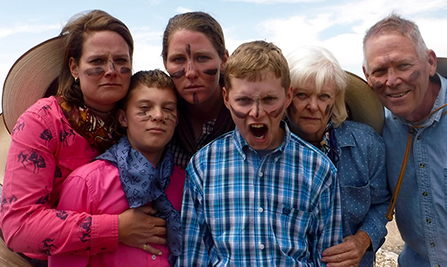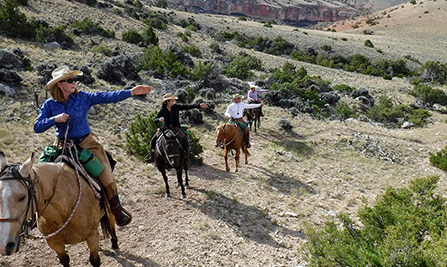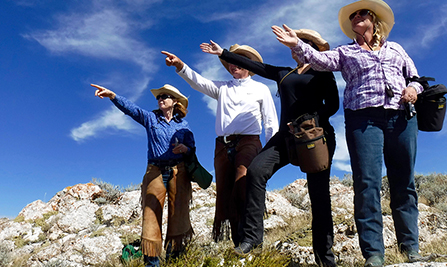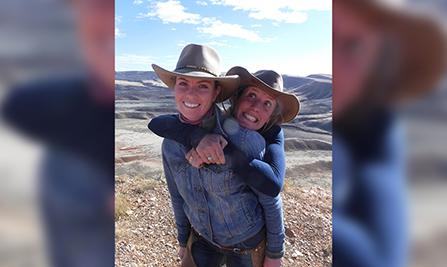 Others will tell you that we combine a traditional ranching culture with a progressive eye on the future, caring for the eco-system, the lands we use and an ever-changing world.
Our guests return to The Hideout Lodge & Guest Ranch because of the warmth of our hospitality, and because our ranch is managed by a well-traveled family and staff that knows how to excel and wants to please. Our guests enjoy high-end pampering and excellent, healthy food created by a culinary-schooled chef who cares and goes the extra length with a smile.
We take pride in having an enthusiastic staff, many of whom reside with us year-round. The main reason we have a great team of people is because we treat them as family. We want The Hideout to be the best place to work so it is the best place for you to vacation. Whenever our staff talks about The Hideout, they use the words "we" and "our". We believe that's the finest proof that they take pride and ownership in what they do.
Our repeat guests will tell you about our quality, well-maintained grounds and clean accommodations. They appreciate that we always strive to make each visit better than the last. It's commonly referred to as "The Hideout Experience".
Repeat Guests and Word of Mouth – What Others Say!
What others say matters more than what we say about ourselves. Most of our guests are either repeat guests or come to us through word of mouth.
Many guests compare the vacation and experience we offer with a ski-vacation. Active, outdoors and fun – yet safe and exciting with a sense of accomplishment. The Hideout is driven by an organized structure and culture to make sure everything runs smooth and you feel like family. Many of our guests tell us that our culture and how we operate is an experience on its own. We often hear that visiting The Hideout has been a life-changing experience.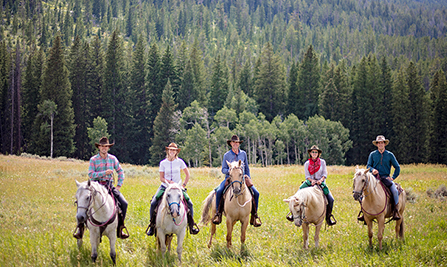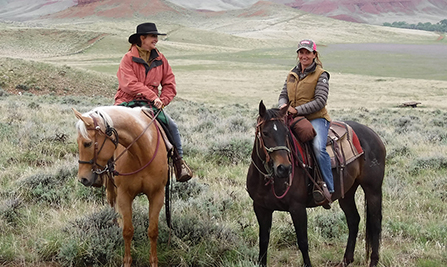 Despite the positive feedback we hear every week, we strive to remain critical with ourselves – after all, we are a bit subjective.
Take a moment and visit internet testimonial portals like Trip Advisor. Not only will you read how guests rate their experience and what you can expect from a visit to The Hideout, you will learn more about what to expect and what the experience is not about. We believe that honesty and transparency sets both you and us up for success!
What are our Guests saying?